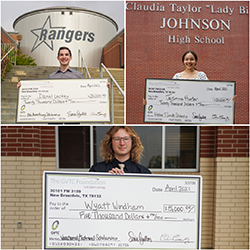 One of the most rewarding contributions The GVTC Foundation makes to the community is its scholarships. The students in our service area are the next generation of leaders for our communities and The GVTC Foundation believes it is crucial to invest in their futures.
The GVTC Foundation has awarded two scholarships, amounting to twenty thousand dollars, to graduating high school students since 2014: the Ritchie T. Sorrells Leadership Scholarship and the Ola Armstrong Volunteer Scholarship. In 2019, the GVTC Foundation also added a Vocational/Technical Scholarship. This scholarship recognizes a high school graduate who has demonstrated a commitment to continuing their education in pursuit of a degree or certification in a vocational or technical field.
Our recipients of this years' scholarships are Jasmine Hunter from Johnson High School, Daniel Lackey from Smithson Valley High School, and Wyatt Windham from Canyon Lake High School. Jasmine earned the $20,000 Ritchie T. Sorrells Scholarship for Leadership, Daniel earned the $20,000 Ola Armstrong Scholarship for volunteerism, and Wyatt received the Vocational/Technical scholarship worth up to $5,000.
Due to the COVID-19 pandemic, we had to celebrate our scholarship winners in a different way. Instead of holding our annual scholarship reception at GVTC's Smithson Valley Headquarters, The GVTC Foundation Scholarship Committee surprised each student with a Zoom call that included their counselors and parents. The reactions of the students were priceless. Click here to view the moment they learned they had been selected.
In 2021, GVTC will also be dispersing $140,000 to high school seniors selected by their school faculty, worth $2,500 each. In total, $185,000 will be awarded to help students further their education.
Congratulations to our senior scholarship winners. We can't wait to see you all take the next big step in life. As a local internet service provider, GVTC understands and values the meaning of being local, and with each contribution made, it hopes to enhance the quality of life for those throughout its communities.