The GVTC Foundation's Thanksgiving Give Back Project Celebrates its 10th year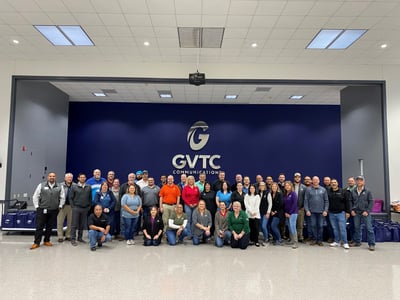 The Thanksgiving Give Back Project is The GVTC Foundation's largest community project of the year. When this project was initiated, the vision was to provide a meal to neighbors experiencing hardship, with the hope that they would place their worries aside for the day and enjoy a traditional Thanksgiving meal with their families.
Since 2012, the foundation has partnered with local food pantries, which select the recipients in the GVTC service area. As the project grew, organizations were invited to participate by collecting food items to make a complete Thanksgiving meal. The meal includes a frozen turkey, all the traditional sides, bread, and dessert. GVTC employees and their families package and personally hand-deliver the meals the Saturday before Thanksgiving.
The goal for the 10th annual event was to provide for 500 families. Despite the rain and cold weather, volunteers were able to deliver meals to 616 families, well-exceeding expectations and helping feed thousands in our community.
Community Partners
This year's project wouldn't have been possible without the help of volunteers, 12 local food pantries, and one Meals on Wheels program. Over 25 community organizations collected food and funds for this project. The GVTC Foundation extends a sincere appreciation to all that participated.
H-E-B
Brookshire Brothers Canyon Lake
Bimbo Bakeries
Foodguys
Local Food Pantries included:
The Hope Center
Helping Hands at Rebecca Creek
Hill Country Daily Bread Ministries
Provisions Outreach of Bulverde
Meals on Wheels Bulverde Spring Branch Activity Center
Gonzales Christian Assistance Ministries
Children Centre Los Niños
Community Bible Church Bulverde
Organizations included:
Canyon Lake High School Student Council
Comal County Senior Citizens Foundation
Gonzales High School Anchor Club, FCCLA, and Leo's Club
Kendall County Juvenile Probation
Paschal Elementary -CIS Site
Shepherd of the Hills (S.W.A.T.)
Smithson Valley High School Family and Community Services & JROTC
Sonora Bank Bulverde
STEPS Solutions That Equip People for Success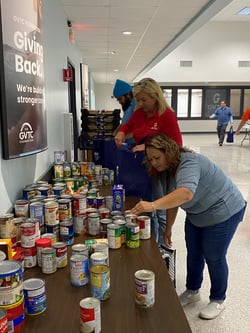 Since its launch, the Thanksgiving Give Back Project has helped 2,736 families. The GVTC Foundation continues to serve its mission to profoundly enhance the quality of life in the communities served through charitable contributions and volunteerism.
As the need in the community increases, the effort of the project continues to gain attention and partnerships. Several commitments were already made for the upcoming year. Donations and food contributions allow the project team to increase the number of families supported annually. All are invited to participate.
GVTC employees, donors, and customers have a passion for this heartwarming event. The GVTC Foundation is grateful for the opportunity to help the community this holiday season and is already looking forward to next year.
If you wish to learn more about The GVTC Foundation and how you can get involved in community outreach efforts, email info@thegvtcfoundation.com or visit thegvtcfoundation.com
---