Tips for Home Security Prep Before Holiday Guests Arrive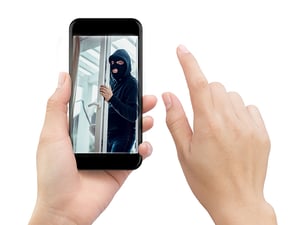 Since COVID-19 isn't canceling the holidays, how do you plan to spend yours?
Socialize and attend a party? Maybe host yours?
In a recent report, Deloitte says that financial anxiety and health are altering buyers' behavior. So your friends and family are cutting down on travel and experiences, in-store purchase, and shopping time.
But they still want to have fun.
Deloitte thinks that families will spend about $1,387 on average, which means they'll be spending seven percent less than usual. Travel took the most hit with a 34 percent drop in spending.
So you'll have guests. No doubt. Everyone is in town.
Well, you don't want uninvited guests though — no porch pirates or burglars. That's where security comes in; the tips here will help you enjoy your holidays without ruining the fun.
Make Sure All Entrances Are Secure
If you've been lax with your home security, it's time to fix it.
You may aid a burglar without knowing it — 34 percent of burglars walk in through the front door.
However, your front door isn't the only security loophole. If you have a garage, secure it.
Intruders can slip through an unsecured pathway in the peak of the holiday excitement or when you're busy running errands.
To avoid this, update your home security system. At the very least, set up an alarm and motion detector to notify you of an intruder.
With GVTC connectHome you can enable geofencing to trigger security alerts if an intruder enters your yard.
Even if you forget to lock all your doors and turn on your security lights, the connectHome's geofencing automation would kick in. The system would lock your garage door, front doors, and initiate motions around your property to suggest human presence.
Set Timers for Your Appliances
You no longer need to worry about your home when you can see it wherever you go. It's normal to forget to switch off the lights when you go out in a hurry.
Now, you can set scenes that turn off your lights or lock windows and doors at a particular time. You can also program them to lock after a few minutes of inactivity.
Use smart outlets for sockets that you didn't connect to the timer system. In that way, problems with such sockets alert you and you can switch them off wherever you are.
You can also set timers for your dishwasher, vacuum cleaner, and coffeemaker. It's okay to come home and relax.
Although sounds from the televisions or radios, and the sprinkler systems often suggest that someone's home, even when they're not. Using light timers shouldn't be to ward off intruders alone. They also illuminate slippery and dark walkways for you.
Add Extra Eyes to the Front Door
When you connect your camera to your connectHome app, you can see what's happening at the front door even in your absence. It allows you to control the doorbell and cameras remotely.
The facial recognition function tells you which of your family members is at the door. It also alerts you when it detects an unknown person.
You don't have to leave anything on hold because your guests are about to arrive. The app allows you to see and talk to the person at the door through the doorbell. So, you can choose to open the door through the app to let your guest in while you're away.
Now, you can be in two places at the same time.
Check for Blind Spots
After you set up your security camera - check for blind spots.
Because all security cameras have a limited range, there'll always be a blind spot.
To cover more ground, you must position each camera's view to overlap with the blind spot of the closest camera.
Ensure a wider coverage with these tips:
Review and Mark the Ideal Locations for Camera Placement
Review your building plan and highlight the most suitable locations to position a security camera. Then, considering the detection range of the camera, check the size of the area.
Take Photos of Proposed Locations
Snap the areas or locations you want the camera to cover. Doing this will give you a better understanding of the camera's field of view (FOV).
You'll know how far the camera covers, and where to place the camera for better coverage.
You may have a family member or a friend pose as a visitor (or intruder) while you do a trial run.
Check Out the Natural Lighting of the Area
It's easy to forget how bright an area is.
If an area lacks natural lighting in the day, or you'd always turn the lights off at night, then get an infrared motion sensor to detect unwanted presence in the dark.
Explore the Possibility of Vandalism
While you may have your indoor cameras working at an optimum level, if the outdoor cameras are easily accessible, then you're not safe.
Ensure you get wireless and vandal-proof cameras. Create a geofence and set up scenes to activate your alarm system when an intruder breaks in.
Change Your Passcodes Regularly
It's essential to change your security system passcodes regularly. No matter how strong you believe they are, we recommend changing them before your holiday guests arrive.
Swap out the old for new. Add user codes for guests to use when they come in or go out when you're not close by.
Doing this ensures you don't release your security code. This way, you don't risk a malfunction by always resetting the entire system.
Have A Guest List and Stick to It
You'll probably be doing a lot of things when your guests arrive. So some things are likely to slip by you and from memory. That's why you must have a guest list and stick to it.
The reason is simple. We're currently battling a viral pandemic. You may need to do a contact tracing if things hit the fan.
Another reason is you need to let the rest of your family in on your guests, especially if they don't readily fit the title of "family friend (s)" or relatives.
Using a guest list will enable you or the rest of your family to be conscious of the people you invite as guests.
Happy Holidays!
Holidays can be stressful, no kidding.
But you can keep your family, guests, and belongings safe by being security conscious. A few changes to your smart home will go a long way.
You mustn't do everything at once, though. Identify the tips most important to you and add the rest as you proceed.
Being proactive when you find potential security risks is the only way to have an enjoyable holiday, free of worry.