Touching Hearts, Filling Plates: The 2023 Thanksgiving Give Back Project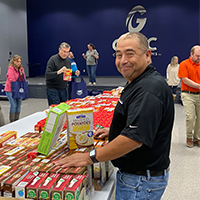 With the year flying by, The GVTC Foundation's largest event is just around the corner - the Thanksgiving Give Back Project! We're actively seeking donations for this year's initiative. Our goal is to provide an even greater number of Thanksgiving meals to families in need within our service area, and your involvement is key to making it happen!
This incredible endeavor kicks off early, with The GVTC Foundation beginning to raise monetary donations and collect canned goods as early as September. This campaign continues steadfastly through the second week of November. Then, on the Saturday before Thanksgiving, the dedicated GVTC employees, their families, and community volunteers come together to deliver these heartfelt meals.
To contribute, you have a few options:
Monetary Donations:
A donation of $40 will cover the cost of a complete meal for one family.
You can make a money donation by clicking here or by giving us a call at 830-885-8450.
If you prefer to send a check, kindly address it to:
The GVTC Foundation
36101 FM 3159
New Braunfels, TX 78132
Additionally, we've made it easy for you to donate via text. Simply text the word "GIVE" to 830-256-8855.
Food Donations:
You can also contribute by donating specific food items from our list. We're accepting donations from now through November 10, 2023. Drop-off locations are available at any GVTC Store.
Food Items Needed:
Instant Mashed Potatoes
Jellied Cranberry Sauce (canned)
Green Beans (canned)
Corn (canned)
Gravy (canned or packet)
Stuffing (instant)
Sweet Potatoes/Yams (canned)
Aluminum Turkey Roasters
Turkey Oven Bags
Frozen Turkey (12-15 lbs, only accepted week of delivery)
Loaf of Bread (fresh, only accepted week of delivery)
Your support, whether through monetary donations or canned goods, is invaluable in spreading joy and comfort to families in need during this special time of year. Together, we can make a meaningful difference. Thank you for being a part of The GVTC Foundation's Thanksgiving Give Back Project!
---