According to Lady Whistledown, Tis the season of love and the Netflix hit Bridgerton encompasses every aspect of romance!
The series, based on Julie Quinn's bestselling novels, follows the lives of London's high society families through their journeys to find love and happiness. The show will have you binging hours of episodes that contain drama filled parties, forbidden romances, and unbelievable secrets.
Step back in time with the show's elaborate wardrobes, gorgeous architecture, and stunning gardens. So make haste! Whether you are single or being courted, plan a Valentine's Day Netflix party with your friends or set-up a romantic dinner date and movie with your significant other inspired by "Netflix's most watched show".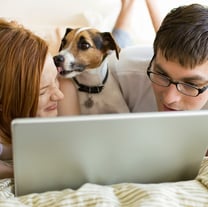 Already binged Bridgerton and are having withdrawals? Fortunately, Netflix has something for all your Valentine's Day streaming needs. Maybe you want to spend the day feeling like the world is full of happiness and love. Maybe you want to spend quality time with your S.O., pet, and/or a very large bottle of your favorite drink. Or maybe you just want to cry alone into a pint of Bluebell that technically isn't a single serving but will definitely be finished in one sitting. Whatever mood you are in, below is a list of some of the sweetest, sappiest, funniest movies on Netflix that'll put you in your feels! Use the GVTC Elevate remote to easily access Netflix, YouTube, and Pandora directly from your TV channel guide.

1. About Time- One man discovers he can travel through time, allowing him to win over the girl of his dreams. This emotion filled movie will have you reaching for a box of tissues.

2. Marriage Story- Over the mushy gushy romance movies? Watch this if you want to feel good about being single on Valentine's Day.

3. 50 First Dates- This heartfelt romantic comedy will have you laughing one moment and tearing up the next. Follow Henry Roth (Adam Sandler) as he tries to win the heart of Lucy Whitmore (Drew Barrymore), who suffers from short-term memory loss.

4. The Prince & Me- What girl hasn't dreamed about being a princess sometime in their life? This movie gives off big Meghan Markle vibes and will have you wishing for your Prince Charming.

5. When We First Met- If you are familiar with the friend zone and fall into this category often, you will relate to this movie deep in your soul.


No matter what you decide to watch this Valentine's Day, no one loves buffering. To ensure you have the fastest connection when streaming, check out GVTC's Premium WiFi.