Your 2022 Fall Guide to Hottest Streaming Premieres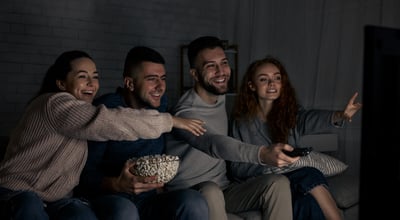 From Netflix to Hulu, Disney+, and HBOMax, with all the different streaming platforms available the amount of content fighting for your attention can be overwhelming. That's why we have compiled a list of the hottest premieres you won't want to miss this fall.
Whether you are looking for a movie or a new series to binge-watch, from comedies to dramas, our list has something for you! So grab a snack, get comfy and let us tell you what to watch.
The Lord of the Rings: The Rings of Power
Streaming Platform: Amazon Prime
Genre: Drama, Fantasy, Adventure & Action
Set thousands of years before the events of J.R.R. Tolkien's The Hobbit and The Lord of the Rings, The Lord of the Rings: The Rings of Power takes place in the Second Age of Middle-Earth. Staring during a time of relative peace, the series will span thousands of years and cover all the major events of that time including the forging of the Rings of Power, the rise of the Dark Lord Sauron, and the last alliance between Elves and Men.
The Good Fight Season 6
Streaming Platform: Paramount+
Genre: Legal Drama
A spinoff of the CBS series, The Good Wife, The Good Fight season one picked up one year after the final episode of The Good Wife. The Good Fight follows the young lawyer, Maia Rindell whose reputation was destroyed after a huge financial scam, and her mentor and grandmother Diane Lockhart, as they try to rebuild their lives and careers at Reddick, Boseman & Kolstad, one of Chicago's preeminent law firms. Season 6 has been announced as the final season of the series and will address topics like Roe v. Wade, voting rights, and the potential threat of an impending civil war.
Cobra Kai Season 5
Streaming Platform: Netflix
Genre: Comedy, Drama, & Action
The perfect show for any The Karate Kid fans! Taking place 34 years after the events of the 1984 All Valley Karate Tournament, Cobra Kai follows the lives of Johnny Lawrence and Daniel LaRusso, now all grown up. Struggling, Johnny Lawrence seeks redemption by reopening the Cobra Kai dojo, which reignites his rivalry with a now successful Daniel LaRusso. You can get all caught up on seasons 1-4 of Cobra Kai on Netflix now!
The Handmaid's Tale Season 5
Streaming Platform: Hulu
Genre: Drama & Science Fiction
Based on Margaret Atwood's best-selling novel by the same name, The Handmaid's Tale is set in the fictional nation of Gilead, a totalitarian society in what used to be part of the United States. Gilead is a nation faced with environmental disasters and a plummeting birth rate. The nation is run by a fundamentalist regime that treats women as property of the state and in an attempt to repopulate, fertile women are forced into servitude. Forced to live as handmaids. The Handmaid's Tale follows the story of one handmaid, Offred, a woman determined to survive and find her daughter that was taken away from her. Seasons 1-4 can be streamed on Hulu now!
A Jazzman's Blues
Streaming Platform: Netflix
Genre: Drama
A Tyler Perry film, A Jazzman's Blues takes palace in the post-World War II South, between the years of 1937 and 1987. This coming-of-age story follows the life of a young black jazz singer who leaves his rural town in search of fame. It is a story of forbidden love, deceit, and a 40-year-old secret.
Blonde
Streaming Platform: Netflix
Genre: Drama
Starring Ana de Armas as the iconic Hollywood legend Marilyn Monroe, Blonde is a reimagined, fictionalized portrait of Monroe's rise to fame and her tragic demise. Blonde is based on the 2000 bestselling novel of the same name, written by Joyce Carol Oates.
Entergalactic
Streaming Platform: Netflix
Genre: Musical, Drama, & Romance
Co-created by musician and actor Kid Cudi, Entergalactic is an adult animated music streaming television series based on Cudi's upcoming album of the same name, which will also serve as the series soundtrack. The series will follow Jabari, a charming artist on the cusp of success. After a chance meeting with his new neighbor, Meadow, Jabari has to figure out whether he can make space in his life for love and still pursue his career.
A Friend of the Family
Streaming Platform: Peacock
Genre: Drama
Based on real events, A Friend of the Family follows Robert Berchtold, a close friend of the Broberg family, who kidnaps Jan Broberg multiple times over the years. The Brobergs were a family devoted to their faith, family, and community, and Berchtold was able to use sophisticated tactics to exploit their vulnerabilities, drive them apart, and turn their daughter against them. Although this story has been told before, the real-life Jan Broberg and her mother serve as producers of this dramatization.
The Midnight Club
Streaming Platform: Netflix
Genre: Teen, Horror, & Mystery-thriller
Based on the Christopher Pike young adult novel by the same name, The Midnight Club follows a group of terminally ill patients at Brightcliffe Hospice. Every night the group of teens gathers around midnight to share sinister stories and look for any signs of the supernatural. Created by Mike Flanagan, the man behind horror shows like The Haunting of Hill House, The Midnight Club is guaranteed to be a spooky, skin-crawling experience.
The School for Good and Evil
Streaming Platform: Netflix
Genre: Action, Drama, & Fantasy
Not your traditional, "once upon a time" story, The School for Good and Evil, directed and co-written by Paul Feig, is based on the best-selling young adult series of the same name written by Soman Chainani. The film follows two best friends, Sophie and Agatha, who find themselves on opposing sides, after enrolling at an enchanted school where future heroes and villains are trained to protect the balance between good and evil.
Tulsa King
Streaming Platform: Paramount+
Genre: Crime & Drama
Starring Sylvester Stallone, Tulsa King follows New York mafia capo, Dwight Manfred, who has just been released from prison after serving 25 years. Manfred's boss exiles him to Tulsa, Oklahoma, where Manfred must begin to slowly build himself a "crew" to help him establish a new criminal empire.
Willow
Streaming Platform: Disney+
Genre: Action, Adventure, & Fantasy
A sequel to the 1988 Ron Howard film of the same name, this Willow series will follow a group of unlikely heroes on a dangerous quest to places far beyond their home, where they must face their inner demons and come together to save their world. Warwick Davis will return in the lead role of Willow, along with many other of the original cast members.
Get Your WiFi Ready!
Is there anything worse than having the most exciting part of your favorite show interrupted by buffering? Hurry now, before the fall premieres hit, and update your internet to one of GVTC's internet plans for some of the fastest most reliable WiFi around.
---