Your complete guide to the hottest 2023 summer TV premieres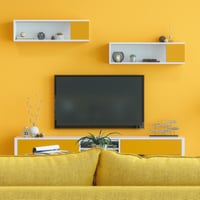 Everyone always talks about fall television premieres, but what about summer? Reality shows, comedies, dramas, fan favorites, and exciting new options. This summer's television lineup has a little bit of something for everyone!
Keep reading to see what shows you can enjoy this summer.
Brand New Shows
The Full Monty
Premiering June 14 on FX
Fans of the original 1997 British film rejoice! The Fully Monty is an eight-episode limited series, that will reunite the original story's characters 25 years later, including the original cast members Robert Carlyle, Mark Addy, and Lesley Sharp. The episodes will follow your favorite characters as they tackle new modern-day challenges, including children and grandchildren.
The Walking Dead: Dead City
Premiering June 18 on AMC
Walking Dead fans will be treated to yet another Walking Dead spinoff this summer. Starring Lauren Cohan and Jeffrey Dean Morgan, this sequel will follow Negan and Maggie as they travel to a post-apocalyptic New York City in search of Maggie's kidnapped son.
Praise Petey
Premiering July 21 on Freeform
From former Saturday Night Live head writer Anna Drezen comes a Gen Z comedy starring Annie Murphy, John Cho, Kiersey Clemons, and Christine Baranski. This animated comedy will follow Petey, a New York City 'It" girl, who decides to modernize her father's small town.
Returning Fan Favorites
Cruel Summer
(Season 2)
Premiering June 5 on Freeform
This season of Cruel Summer will take visitors to a waterfront town in the Pacific Northwest in the early 2000s. Season two will tell the story of two best friends torn apart by both a love triangle and a local tragedy. Using the same format as last season, the show will follow three separate timelines, all within the same one-year span.
What We Do in the Shadows
(Season 5)
Premiering June 13 on FX
It's a vampire mockumentary, need we say more? Although details on season five have been kept pretty under wraps, at the conclusion of season four, Guillermo, the familiar, asked to finally become a legit vampire. In season five of this vampire comedy, viewers can expect to finally see if this changes his relationship with Nandor, Nadja, and Laszlo.
Outlander
(Season 7)
Premiering June 16 on Starz
Season six may have been cut short, but season seven is returning with even more episodes. This supersized season will premiere at the start of the American Revolution with the show's heroine, Claire, in prison, wrongfully convicted of murder.
The Righteous Gemstones
(Season 3)
Premiering June 18 on HBO
Starring John Goodman, Danny McBride, Edi Patterson, and Adam DeVine, in season three, the Gemstone kids are finally taking control of their father's televangelist church made famous by their father. But are they ready for it?
The Bear
(Season 2)
Premiering June 22 on FX
Last summer's breakout hit The Bear, returns this summer. This season Carmy, Sydney, Richie, Marcus, and the rest of the crew now have enough money to start their own restaurant, but can they all keep it together long enough to make it happen?
Reservation Dogs
(Season 3)
Premiering August 2 on FX
Last season ended with the Rez Dogs in California, after finally going west and officially saying goodbye to their late friend. Bear, Willie Jack, Elora, and Cheese find themselves at a crossroads now and have to decide what their next steps will be. Will they return to the reservation, or will they stay in LA?
Reality and Competition Shows
Stars on Mars
Premiering June 5 on FOX
Have you ever wondered how your favorite celebs would start a colony on Mars? Well, maybe not, but it would probably be pretty entertaining. That is the premise of Stars on Mars. William Shatner will host this competition show that will pit stars like Lance Armstrong, Marshawn Lynch, Ariel Winter, Ronda Rousey, and more against each other in a simulation to create a colony on Mars. The last "celebronaut" standing wins!
Superfan
Premiering June 9 on CBS
As the name suggests, this competition show will pit superfans of different musical artists, like Shania Twain and Pitbull, head to head, to prove who really is the superfan. The celebrities themselves will choose the winner, and whoever is crowned the true superfan will walk away with the title and a prize.
Alone
(Season 10)
Premiering June 10 on the History Channel
This season, taking place in Northern Saskatchewan follows a new batch of ten individuals scattered across treacherous landscapes as they fight the elements and the wildlife to survive all alone. The last one standing wins half a million dollars.
Project Runway
(Season 20)
Premiering June 15 on Bravo
Project Runway returns this summer for season 20. This 20-year celebration will be host-less and bring back 14 all-star contestants spanning the life of the show, including Prajjé Oscar Jean-Baptiste (Season 19), Hester Sunshine (Season 17), Rami Kashou (Season 4), Johnathan "Kayne" Gillaspie (Season 3), and Kara Saun (Season 1). Season 4 winner Christian Siriano will work as both the season mentor and guide.
Claim to Fame
(Season 2)
Premiering June 23 on ABC
Hosted by brother Kevin and "Bonus Jonas" Frankie Jonas, last summer's surprise breakout hit returns to ABC with a new batch of celebrity relatives ready to compete. The 12 celebrity relatives will compete in different challenges as they try to figure out the celebrity connections of the other competitors.
The Bachelorette
(Season 20)
Premiering June 26 on ABC
Many may still be recovering from last season, but a new season is almost here! This season 27-year-old Charity Lawson will be looking for love. To keep things interesting, this season will have a twist. Lawson's brother will be going undercover with the men to help figure out who is really there for the right reasons.
The Prank Panel
Premiering July 9 on ABC
Buckle up for a wild good time! Eric André, Johnny Knoxville, and Gabourey Sidibe all team up to help everyday people execute their dream pranks. In every episode, a prank will be pitched to the team, and if the panel agrees that it is a worthy prank, they will team up with celebrity guests to help make that prank a reality.
The Real Housewives of New York City
(Season 14)
Premiering July 16 on Bravo
After a two-year hiatus, this season The Real Housewives of New York City is getting a complete overhaul, with the original cast members all being replaced to make space for a new set of women ready to take on the city. The season 14 cast will include Sai De Silva, Ubah Hassan, Jessel Taank, Brynn Whitfield, Erin Dana Lichy, and former J.Crew president and creative director Jenna Lyons.
Click here to learn more about GVTC's tv packages and make sure you have access to all the channels your need to enjoy your favorite shows this summer!
---