Your Guide to a Perfect Backyard Movie Night
While a drive-in movie theater may be hard, if not impossible to come by nowadays, you can enjoy watching a movie under the stars in the comfort of your own backyard this summer. With just a little preparation, you can turn your backyard into the best outdoor theater on the block!
Screen & Projector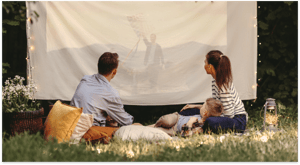 The movie should be the center of attention for your backyard movie night, so selecting the right screen and projector is vital for a successful evening. No one wants to watch a movie on a tiny, blurry screen.
Depending on your space and budget, when it comes to selecting a screen you have several options.
If you are on a budget or you don't want to invest in extra equipment, a large unobstructed light-colored wall may be sufficient for your backyard movie night. If your home or your fences are painted white, or any other light color, and you can easily set up a seating area around it, feel free to use that as your screen.
If you don't have any light-colored walls or fences, or your home layout just doesn't lend itself well to the first option, another budget-friendly option would be to simply hang up a light-colored sheet or drop cloth. You can hang your sheet up over a darker wall or fence, or, if you want to place it out in your yard, you can secure it between two trees or poles. If you plan on choosing the latter option make sure you secure the sheet tightly to both the trees/poles and the ground to prevent the sheet from blowing in the summer breeze in the middle of your movie.
If you think you'll be having frequent backyard movie nights you may want to consider investing in an outdoor projector screen. Outdoor projector screens come in all shapes, styles, sizes, and prices so you can really find the right one to meet your needs, your yard, and your budget.
No matter which route you go, make sure you chose a screen large enough to accommodate the group you plan to host. You want to make sure everyone can comfortably view the screen from a comfortable distance.
To go along with your screen you'll also need to purchase a projector. Just like outdoor projector screens, movie projectors come in a wide range of styles, prices, and sizes.
While searching for your perfect projector some things you'll want to keep in mind include -
How will you be streaming your movies? Will you be streaming by WiFi, connecting to a streaming stick, using a Blu-ray player, or maybe something else? No matter what you plan to use, be sure the projector you chose matches your streaming preferences.
What kind of power source does the projector have? Does it have a battery option and if so how long is its battery's life? If the projector doesn't have a battery or the battery life isn't long enough, do you have an accessible outlet you can plug your projector into? Will extension cords and power strips be necessary?
Make sure you understand throw distance and what is best for your backyard setup. Throw distance is the distance between your projector and your screen. Standard throw projectors need to be about 10 feet away from the screening, meaning people may be sitting between the projector and the screen. Short throw projects can be placed much closer to the screen, often less than a few feet away.
You'll want to purchase a projector with adequate brightness. Unlike when using projectors inside, even on a moonless night, your backyard won't be pitch black, and for multiple reasons, you probably wouldn't want that anyway. Brightness is usually measured in lumens and a projector between 2,000 and 2,500 lumens should be adequate for most situations, but, if there is a lot of competing light in your yard, nearby street lamps, or a brightly lit neighbor's home, you may want to opt for 3,000 lumens.
Don't skimp on the resolution. You want your movie experience to be clear and crisp right? When it comes to resolution, you want to choose a projector with a minimum of 720p resolution, however, 1080p or 4k would be even better.
Sound System
While some projectors come with built-in speakers, few are actually adequate for a backyard movie night so, unless you have a sound system set up in your backyard, in which case you're all set and can skip this section, you're going to need a way for you and your guests to hear the movie. Consider purchasing a large speaker(s) that you can connect to your projector.
Seating
Now that you have figured out how you will play your movie, next you need to decide on seating. This could vary depending on your backyard layout, the atmosphere you are trying to set, and your guests.
For a fun family night or any sort of gathering that may consist of a lot of little ones, you may be able to get away with putting down some outdoor rugs, with plenty of blankets and pillows to keep everyone cozy and comfortable.
If your backyard movie night will have older kids or more adults, you'll probably want to opt for actual seats. Grab some beach chairs or lawn chairs or even some dining room chairs, anything you're willing to bring out to your yard will do.
Maybe you have some on hand, or if you don't but think more movie nights may be in your future, outdoor furniture is perfect for a comfy cozy backyard movie bash. Outdoor couches, loungers, bean bags, and any other outdoor seating option you prefer would be perfect for a night like this!
Mix and match seating options to create the look and feel that you want and remember, even when hosting on a summer night, temperatures can still drop and leave your guests chilly. Keep your guests warm and cozy with additional blankets or consider investing in outdoor heaters or a firepit.
Food & Beverages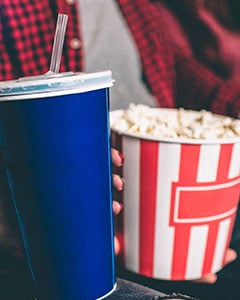 What's a movie night without popcorn? Set up your own concession stand aka snack table for your backyard movie night. Go traditional with popcorn, candy, and nachos with all the fixings. Or, make it your own with your favorite food and snacks, like cookies and pizza! Maybe get your guests involved and make it a potluck? It's your movie night, get the food that makes your family and friends the happiest, just don't forget the cooler filled with drinks.
Lighting
Of course, you want your yard to be dark to get the best image from your projector, but you also want it to be safe, plus the right lighting can really set the mood and be the perfect final touch to your backyard setup.
Consider hanging some outdoor lights, but nothing too bright, you don't want to outshine your film. Hang lights towards the back of your seating area and close to your concession stand or snack table, if you chose to have one.
Another great way to add light to your evening gathering is with tiki torches. Consider burning citronella oil to help keep those pesky mosquitos at bay. If tiki torches aren't your style, you may still want to opt for a couple of citronella candles to set amongst your guests. Don't let mosquitoes ruin your evening.
HBO Max
Now that you've got your set up all ready to go, not sure what to watch? Why not try out HBO Max? With over 10,000 hours of new shows, movies, and documentaries, as well as classic favorites, HBO Max is sure to have something for everyone.
And did you know that GVTC offers HBO Max at a discounted price to all of our customers who are a part of our Member Dividend Program? To see if you qualify for the Member Dividend Program and the discount on HBO Max, contact us at (800) 367-4882 and one of our Customer Care Representatives will be happy to help you.
---