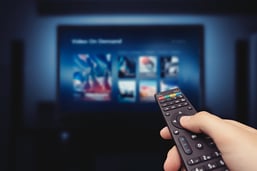 Binging TV has become a way of life since quarantine began. Escaping reality to enjoy your favorite shows and movies is a great way to relax and unwind. Did you know that GVTC offers HBO Max at a discounted price to all customers who are a part of our Member Dividend Program?
HBO Max has over 10,000 hours of new shows, movies, and documentaries, as well as classic favorites. From Game of Thrones to The Fresh Prince of Bel-Air, the options are endless. The streaming platform will also debut new movies the same day as theaters release them at no extra cost! Even better, if you sign up for HBO Max between March 1 and March 31, and you will automatically be entered to win an iPad! Click here to see the official contest rules. Don't miss out on having your favorite shows and movies at the click of your remote. Use the GVTC Elevate remote to easily access Netflix, YouTube, and Pandora directly from your TV channel guide.
To see if you qualify for the Member Dividend Program and the discount on HBO Max, just shop online at our store and your discount will automatically be calculated as you add items to your cart. If you have questions, please call (800) 367-4882 and one of our Customer Care Representatives will be happy to help you.
You don't want to miss out on this platform! Contact GVTC today to see if you are eligible for this fantastic deal! So grab your favorite blanket, pour yourself a nice cup of hot chocolate, and kick back in the safety of your own home with HBO Max.