10 reasons why Arlo is the best self-monitoring home security system for you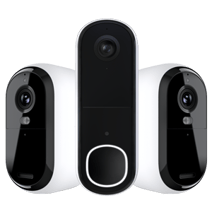 Whether you travel a lot, have suffered a break-in recently, or just want to take that extra step to make your home extra safe, installing a home security system is one of the best things you can do. Home security systems are great at deterring burglars from even attempting to break into your home, and in fact, a study found that 83% of burglars will check for signs of a security system before breaking in.
But now that you're ready to purchase a system, you need to figure out which system is right for you. With so many different companies on the market today, Arlo does a great job of standing out from the crowd.
If you're thinking of purchasing a self-monitoring home security system, here are 10 reasons why Arlo from GVTC connectHome® smart security is the best choice for you.
Wide variety of camera options
Arlo offers outdoor and indoor cameras to help you build your perfect home security system.
2. Battery powered
Cut the wire when you chose Arlo to protect your home. The majority of Arlo's security cameras are battery-powered (or optional battery-powered), making it easier to place your cameras where you need them most. And if you are looking to help save energy costs, Arlo now offers solar power panels to help cameras run longer.
3. 4k video
No need to wonder what is going on in your security footage. With 4k resolution, the best available in the industry, the camera footage is crisp and clear.
4. Night vision
With night vision on all cameras and color night vision available on some, you never have to worry about poor surveillance at night. With your Arlo home security cameras, your home is monitored 24/7.
5. Arlo AI
With Arlo's AI technology, your cameras will be able to detect and identify people, pets, packages, and automobiles.
6. Two-way audio
A unique and handy feature, all of Arlo's cameras come with speakers and microphones, allowing for two-way audio. This can come in handy in case of a break-in or misbehaving children.
7. Weatherproof
No need to worry about where you place your Arlo cameras. Arlo security cameras are weatherproof, so they can withstand most heat, cold, and rain!
8. Arlo Secure App
With the Arlo app, you have access to your entire home security system from the palm of your hand (your smartphone). From the Arlo app, you can live stream footage, speak through two-way audio, review stored footage, receive notifications, and control the settings on your cameras. And even better, with interactive notifications, you can take action without having to unlock your phone.
9. Storage
While many systems offer either local or cloud storage, with Arlo, you can choose to store your video footage both locally and in their cloud system.
10. Third-party smart home integration
Your Arlo devices are compatible with both Google Assistant and Amazon Alexa. With the Arlo SmartHub, you can even connect to your Apple HomeKit.
Ready to build your perfect home security system with Arlo? Click here to find out all about the different Arlo home security options offered through GVTC.
---