6 Reasons why you need a home security system on your rental property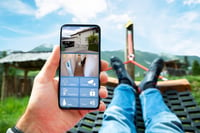 With summer right around the corner and many people already planning their vacation getaways, now is the best time to invest in a home security system. Whether you own an Airbnb, a few rental properties around town, or a mansion on the lake, here are six reasons why you should install a home security system on your rental property.
1. Safety
The exact same reason you would install a home security system on your personal home is the exact same reason you should consider installing one on your rental property - safety. You want to feel safe in your home and your renters, whether long-term or simply overnight, want to feel safe as well. By installing a security system on your rental property you will help instill a sense of safety in your renters.
2. Attract Renters
A home security system is a great way to attract tenants to your property. For most renters, safety is a top priority and for some, a good security system could even make or break the deal.
3. Save Money
Did you know a security system could help you and your renter save money on insurance? A good security system can help you save money on your homeowner's insurance as well as help your tenants save money on their renter's insurance.
4. Rental Value
Who doesn't want to make more money? Many tenants will be willing to spend more money for that extra sense of security. While it may cost you a little extra to install that security system, in the end, it can help you bring in more money per month.
5. Liability
As the landlord, it is your responsibility to keep your property safe. It is not uncommon for tenants to try to take their landlords to court following a break-in, claiming the landlord did not do enough to protect the property. By installing a security system you can easily demonstrate you took reasonable measures to keep your property and your tenants safe.
6. Your Reputation
Whether it's a vacation rental or somebody's new home, your tenants want to know you care about them and understand their needs. Installing a home security system does just that. It lets your renters know you care about them and their overall safety. This can be the foundation for a good relationship between you and your tenants and the chance for repeat business. If you have multiple properties you rent, tenants that think highly of you will be more likely to recommend you to their friends.
Things to keep in mind…
When installing a security system on a rental property there are limitations on how and where you can monitor your property. Laws and regulations can vary from place to place, so make sure you familiarize yourself with your local laws. As a general rule of thumb, no matter where you reside, video monitoring is not allowed in private areas where tenants have an expectation of privacy. That means, keeping the cameras outdoors. It is also a common courtesy, and often law, to let tenants know they are under surveillance and may end up on security footage.
And, to avoid any excess frustration or false alarms, whenever you have a new tenant moving in be sure to thoroughly go over your home security system with them. It is important they know how it works and how to properly arm and disarm any alarms in and around the home.
Protect your property with Arlo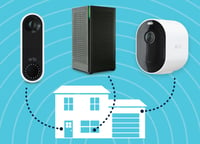 Whether you want to install a video doorbell, a security camera, or you are ready to install a full home security system, explore our Arlo products and our Arlo Secure Subscription Plans today and pick the plan that's right for you!
---