Charitable Golf Classic Breaks Fundraising Record 2019 | GVTC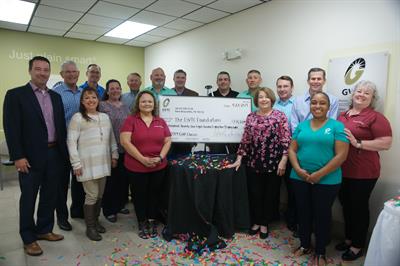 The GVTC Foundation, established in 2006 to profoundly enhance the quality of life for residents in GVTC Communications' service area, is pleased to announce that its 15th Annual GVTC Charitable Golf Classic on April 23 raised $221,884.88 for local grants, scholarships, and charities in our service area. Over 240 golfers and employee volunteers participated in the event, surpassing any tournament thus far.
The proceeds from the tournament, which was held this year at the TPC San Antonio JW Marriott Hill Country Resort & Spa, will be used for grants towards nonprofits across GVTC's entire service area as well as help fund The GVTC Foundation's four scholarships totaling up to $50,000 for graduating high schoolers.
"Every year we continue to be surprised and blown away by the support and love of our community leaders, business partners, and vendors," said CEO and President, Ritchie T. Sorrells, who founded The GVTC Foundation in 2006.
'Canine Classmates' Speaks to GVTC Charitable Golf Classic Fundraising Outcomes
Each year, The GVTC Foundation invites a beneficiary non-profit organization to speak with sponsors at the golf classic, to share a real-world example of their contributions and support. Canine Classmates, a Comal County organization that encourages literacy and socialization in over 400 struggling and at-risk elementary school students, presented this year. Golfers and attendees learned that in pairing children with trained service dogs, Canine Classmates is able to help students achieve increased literacy skills, motivation, and self-confidence.
GVTC Charitable Golf Classic "Making a Lasting Difference in Our Community"
Since 2006, The GVTC Foundation has given more than $3.3 million in donations. It provides grants and event sponsorships for charitable organizations and non-profit groups across six areas of giving: health & human services, youth programs and services, volunteer emergency services, education, culture, and public charities. It also provides scholarships of up to $50,000 to deserving students through the $20,000 Ritchie T. Sorrells Scholarship for Leadership, the $20,000 Ola Armstrong Scholarship for Volunteerism, and two vocational scholarships worth up to $5,000 each.
"I come back to this fundraising event every year because I know The GVTC Foundation is making a lasting difference in our community," said Chuck Knibbe, GVTC Chairman of the Board. "Ninety-five percent of everything raised here goes directly back into projects and nonprofit efforts to improve our area for our kids, and their kids. It's absolutely rewarding to be a part of that."
Held in the spring, The Annual GVTC Charitable Golf Classic is the only fundraiser The GVTC Foundation has. The date for the 2020 GVTC Charitable Golf Classic will be announced soon. Since its inception, The GVTC Charitable Golf Classic has raised over $1.1 million due to the support of its vendors and business partners. In particular, The Foundation wants to thank Calix, the Premier Golf Sponsor, and the sponsors who have participated since The Foundation's very first fundraiser. Without their support, The GVTC Foundation would not be able to give back as much as they do.
Community Members May Support The GVTC Foundation
Community members interested in supporting the important work of The GVTC Foundation may do so at any time by donating online at www.gvtcfoundation.com.