5 Best Automatic Feeders for your Pet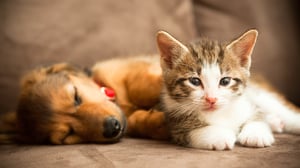 Whether you want to monitor your pet's diet more closely, keep your furry friend fed while you're away, or simply want to check in on your four-legged family member while you're at work, there is an automatic pet feeder for you!
Bonus Feature: Many smart feeders come equipped with HD cameras and microphones, so even if you've never thought about automating your dog or cat's meal plan, many of these feeders allow you to keep an inconspicuous eye on your pet (and your home) home while you're away.
PetSafe Smart Feed Automatic Feeder
Designed for cat and dog owners, the PetSafe Smart Feed Automatic Feeder allows you to schedule meals for your pet through their Smart Feed app, available on Android and iOS. If you have a fast eater, no need to worry, the smart feed system has a slow feed option that allows you to portion out your pet's food. Portions range from ⅛ cups to 4 cups, depending on their dietary needs. The feeder works with both dry and semi-moist food and can store up to 24 cups.
One great advantage of the Smart Feed system is the optional backup battery. Never worry about your pet not getting fed even if the WiFi signal at your home drops. The PetSafe Smart Feed Automatic Feeder also comes equipped with a sensor that will notify you when their food is running low. The feeder can even be programmed to automatically order more food via Amazon Dash Replacement.
SureFeed Microchip Pet Feeder
If you are a multi-pet household this feeder is for you! Designed for both cats and dogs, or a mixture of both, the SureFeed Microchip Pet Feeder uses your pet's microchip or RFID collar tag to control feeding and can be programmed to recognize up to 32 pets. To keep pets from stealing one another's food, the feeder only opens when a registered chip or tag approaches the feeder and closes when they finish eating.
With a split bowl design, this feeder allows you to feed your pets both wet and dry food at the same time. Limited air exposure keeps food from drying out and thus keeps food fresh longer.
Arf Pets Automatic Feeder
If your furry friend is on a strict diet or eating plan consider the Arf Pets Automatic Feeder. The Arf Pets Automatic Feeder can be programmed to feed your pet up to four times per day with the option to dispense food portions ranging from 1 to 10 portions per meal (each portion is 24ml).
The Arf Pets Automatic Feeder can be plugged into an outlet or run on batteries. The food dispenser is detachable and dishwasher-safe. And although you may not be able to view your pet or have a two-way conversation with them, the Arf Pets Automatic Feeder does allow you to pre-record messages that can then be played at mealtime.
PetKit Automatic Cat Feeder
This feeder is specially designed for your feline companions. A fairly large feeder the PetKit Automatic Cat Feeder, can hold up to 10 pounds of dry cat food but don't worry about food going bad. PetKit Automatic Cat Feeder's intelligent design ensures food stays fresh and doesn't clog the feeder. Sensors in the feeder ensure food is released properly, preventing clogs, and weight sensors will alert you when food is running low. This feeder even has a sensor to prevent your pet's paw from getting stuck, in case they try to reach for an extra serving.
The PetKit Automatic Cat Feeder is set up and controlled through your smartphone and the PetKit app. There are three feeding modes available and you have the option to preset a custom feeding plan on your phone. Extra feedings can be added at any time during the day and a manual button on the feeder allows you to add feedings in person too.
WOPET Smart Feeder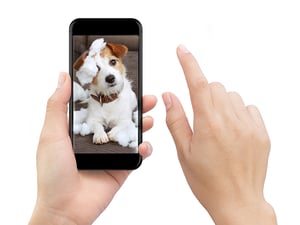 Equipped with a built-in HD camera, the WOPET Smart Feeder, lets you keep an eye on your furry friend all day long. You can watch a live feed of your pet from your phone and even talk to your pet with the WOPET Smart Feeder's two-way mic.
The WOPET Smart Feeder comes with two different food dispensing trays to better fit different types of kibble. When it comes to feeding, you can choose between one and 39 portions (each portion is 10 grams) per feeding.
Bonus - Time for Dessert
While these last three "feeders" won't provide a full meal plan for your furry friend, they do offer fun ways to keep an eye on your pets while they are home alone and reward them with a nice treat here and there throughout the day.
Furbo Dog Camera
Let's start with the one we've all probably heard of, the Furbo Dog Camera. This interactive feeder allows you to treat your "good boy (or girl)" to a treat even when you're not home. Not technically a feeder, the Furbo Dog Camera only allows you to feed treats to your pup, the Furbo Dog Camera has a lot of fun options that make it an interesting choice.
Set up is simple, just plug the camera into an outlet, download the Furbo app, connect the system to your WiFi network, and fill the product up with your puppy's favorite treats.
The Furbo Dog Camera allows you to toss your dog treats from anywhere! Not only can you toss your four-legged companion treats while you're away, the Furbo comes with a 1080p Full HD camera with night vision, allowing you to check on and watch your dog throughout the day (and night). Bark alerts will notify you of excessive barking and allow you to communicate directly with your dog to see what is upsetting them and calm him/her down.
Petcube Bites Pet Camera
Another treat-dispensing gadget, the Petcube Bites Pet Camera has an HD camera with a wide viewing angle, making it great for large homeowners who prefer a good view of an entire space. The camera also has night vision, so you can keep an eye on your pets after dark.
The feeder is large, holding up to two pounds of treats and a fun feature gives users the ability to toss treats at varying distances. The system also allows for two-way audio, allowing you to communicate with your pet when you're away.
Petzi Treat Cam
The Petzi Treat Cam helps you stay in touch with your pets all day. With your smartphone and the Petzi app see and speak with your furry friends. The camera on the Petzi Treat Cam not only allows you to watch a live video feed of your pet, but you can snap pictures as well. And for those Insta-worthy pics, Petzi has created its own social media network called Petzi, where pet owners can share images of their pets.
Many of these automated pet feeders depend on WiFi, both to feed your pet and provide you with live video and/or information. Ensure your feeder never goes down by ensuring you have the fastest, most reliable internet. Click here to find out more about GVTC's internet and WiFi services.
---