5 Must-Have Back to School Tech Gadgets For All Ages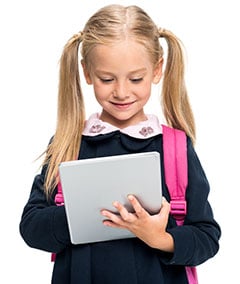 While classrooms and education, in general, have been becoming more and more technology-based over the past decade or so, the past two years really kicked things into high gear. With almost all classes being held online for the past two years, parents, teachers, and students had to find a new approach to learning. With that came the need to get a lot more comfortable with tech-based learning and activities.
Although most, if not all, classes are headed back into the classroom this coming school year, that doesn't mean the tech is going anywhere. So, in preparation for the upcoming school year, besides the usual laptops, tablets, and USB drives, we've compiled a list of five must-have tech-related items and gadgets for students of all ages!
Wipebook Scan
This year your child can ditch the traditional notebook and paper and upgrade to the more eco-friendly, futuristic way of notetaking and writing with the Wipebook Scan! Your child can digitize all their handwritten notes with this futuristic notebook. Simply connect the device to the cloud service of your choice and all your child's notes, doodles, and thoughts can be uploaded and saved. When your child is done or ready to move on to the next page, they can wipe the board clean and keep working while their notes are safely stored for future reference.
SAIJI Laptop Desk
If your child doesn't have a dedicated desk and workspace, or maybe they simply prefer to work on the couch or in bed, poor work conditions, hunched over their laptops and textbooks with bad posture can lead to back problems, aches, and pains. A proper laptop desk, like the SAIJI Laptop Desk, is the perfect solution! The SAIJI Laptop Desk is an adjustable foldable tray, large enough for a laptop, mouse, and more! The desk also comes with a storage drawer.
Logitech C270 HD WEBCAM
While your child may not need to attend virtual classes this coming school year, if your child still has any need for virtual lessons or maybe collaborating virtually on a class assignment, the Logitech C270 HD WEBCAM is a great budget-friendly webcam option, starting at just $24.99. This simple HD camera provides sharp smooth calls at 720p/30fps in a widescreen format, and automatic light correction shows users in lifelike, natural colors. And while many students may opt for headphones with a built-in mic, this Logitech camera does come equipped with a built-in noise-reducing mic that can clearly pick up voices five feet away.
Seagate Portable 2TB External Hard Drive
From essays to book reports, video assignments, and digital art projects, you want to make sure your child's work is protected. While cloud storage is an option, the Seagate Portable 2TB External Hard Drive, starting at just over $60, is an excellent portable option. Your child can store coursework, essays, media files, movie downloads, photos, and more that they can take with them on the go. Stuck without an internet connection? Unlike cloud storage, your child can access their files at any time with an external portable hard drive.
Smart LED Bulbs
Even with in-person classes back in session, students still spend a lot of time in front of a screen completing homework, researching papers, writing essays, and working on projects. Traditional lighting and light bulbs can be harsh and uncomfortable. Smart LED lighting options can help make the lighting in rooms more comfortable for everything from studying to writing or relaxing in front of the television.
Whether doing research for a project, watching an educational video, or working on a multi-media group project, no matter what sort of excitement and academic challenges this school year brings your child make sure your home is equipped with the fastest, most reliable internet with GVTC's Fiber Internet. You can click here for more information.
---