6 apps that will make anyone a summertime grill master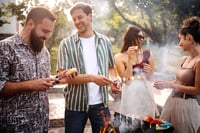 Summer has arrived, and that means it is time to break out your trusty grill! And no matter your skill level, whether you are the neighborhood pit master or can't be trusted to heat up some hot dogs, we've got the apps to help make you a worthy grill master at any cookout this summer.
1. Weber iGrill
Although you'll need a Weber iGrill Probe, Kitchen Thermometer, or Kitchen Thermometer Mini to use this app, the Weber iGrill app can help make sure you never under or over-cook the meat of choice again. Whether slow smoking a rack of ribs or grilling up some perfectly cooked steaks, the Weber iGrill app connects via Bluetooth to your iGrill Thermometer letting you know exactly what's going on with your meats at all times. The app features an extensive temperature preset library for popular cuts of meat and fish and gives you the ability to set multiple timers at once.
2. SteakMate
If you're a steak man (or woman), you need to download the SteakMate app right now! Simply enter your steak cut, thickness, how you want it cooked, and your cooking method and SteakMate will make sure you end up with your perfect steak. After inputting all your steak information, the app will tell you how to cook your steak, when to flip it, and its ideal rest time. Cooking multiple steaks? No problem, cook all your guests' steaks to perfection with the SteakMate queue.
3. BBQ TankMeter
Is there anything worse than running out of propane in the middle of a cookout? With the BBQ TankMeter app, you'll never have to worry about that again. As long as you own a standard 20-pound steel tank, simply tap your tank near your phone, and the BBQ TankMeter will provide you with a visual display showing the approximate amount of propane left in your tank.
4. Green Egg Nation
Do you own a Green Egg Smoker (or any other ceramic grill)? Then you'll probably want to download the Green Egg Nation app! One of the few apps designed for ceramic grills, this app is filled with information on temperatures, serving sizes, and prep times, as well as recipes specifically for ceramic grillers.
5. Hey Grill Hey BBQ Recipes
Looking for grill inspiration? Hey Grill Hey BBQ Recipes has you covered! With over 500 recipes (and a new one added weekly), you're guaranteed to find something to satisfy your taste buds. You can search by category, recipe name, or ingredients. Once you find what you're looking for, the app even has a built-in shopping list to help make sure you don't miss any ingredients while you're at the store.
6. Grilled, BBQ Chicken Recipes
Not a fan of red meat, or maybe you're looking for ways to make chicken more exciting. Whatever your reason, if you're looking for chicken recipes, you need to download Grilled, BBQ Chicken Recipes. From chicken wings to chicken salads, and of course, the always impressive whole chicken, Grilled, BBQ Chicken Recipes is filled with exciting new recipes for you to try! Every recipe on the app includes serving size, calories, cook time, nutritional information, and a list of ingredients. Like Hey Grill Hey BBQ Recipes, Grilled, BBQ Chicken Recipes also has a handy shopping list that lets you add everything you need. And you can even check off your list while you shop!
Last but not least, make sure you have a dependable WiFi you can connect to even in the far corners of your backyard. Is there anything worse than finding the perfect recipe that just won't launch? Click here to learn all about GVTC's Premium WiFi!
---