7 Reasons Why Home Security Systems Just Makes Sense for Millennials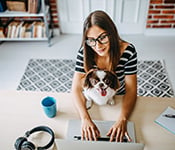 Whether you are a millennial wondering if purchasing a home security system is the right move for you or you are looking to sell a home and want to appeal to the millennial home buyer, which currently makes up 43% of the current home buyer market, here are seven reasons why home security systems just make sense for millennials.
1. It's affordable.
Home security systems are no longer just tools for the wealthy to protect their things. Security systems have become much more affordable, and customizable, and are suited for homes large and small, from a one-bedroom apartment in the city to a multi-story home in the suburbs.
2. It's not just for houses.
Security systems aren't just for houses in the suburbs anymore. From traditional homes to townhomes and even apartments, home security systems come in all shapes and sizes. So no matter where you live there is a security system right for you.
3. It's smartphone compatible.
Millennials are used to having access to what they need right in the palm of their hands. Whether checking up on friends, ordering dinner, calling for a ride, or paying their bills, millennials are used to handling everything from the most important tasks to the most trivial from an app on their phone and modern security systems are no different. From checking your security cameras to checking your thermostat, with the security systems available today, you can access it all right from your phone, even when you aren't home.
4. You can build a smart home around it.
Millennials like a good smart product and today's security systems are perfect for building that convenient custom smart home. Today's security systems aren't just about surveillance cameras and alarms, your security system can be the hub for all your smart devices. From managing your smart thermostat and lights to turning appliances on and off, a new security system can manage all your smart devices from one central location.
5. You can take it on your trips.
Empty homes are a huge target for burglars and millennials travel more than any other generation. With today's technology, not only can you rest easy knowing your home is safe with a security system while you are away, you can monitor your home while you travel abroad. Security systems today are so much more than alarms that notify local authorities of a break-in. The systems available today allow you to check up on nearly every aspect of your home, whether checking your doorbell camera or confirming you turned down the thermostat, even if you are traveling around Europe.
6. It fits your busy lifestyle.
Millennials are constantly on the go. Rushing between appointments and juggling multiple responsibilities, with today's modern home security technology, you no longer have to spend the day wondering, "Did I turn those lights off?" or "Did I shut that window upstairs?" With mobile app integration, many of today's home security systems allow you to check on all that and more right from your phone!
7. It's greener.
71% of millennials believe that climate should be a top priority, and a modern security system is a great way to you live a more sustainable life. With the right security system, not only are you able to keep your home safe, but you can make your home more energy efficient with smart thermostats, smart lights, and even smart irrigation systems.
Ready to install a home security system? Check out GVTC's Smart Security and rest easy knowing your home is protected.
---