How Secure is Your Home? | Smart Security | GVTC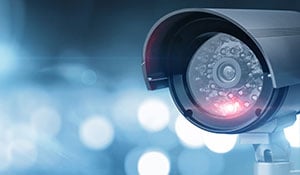 Security services are becoming a crucial part of our world and GVTC is ensuring that we stay up-to-date with the most innovative products for our customers.
Looking around your house, how many security devices do you have? We're talking about all technology devices that contribute to you and your family's safety, like security cameras and alarm systems. The results may just shock you. Only 38% of Americans own a home security product. The top reason for installing a monitored home security system is the protection it offers. Professionally installed systems bring more pain-free installation, better support and strong device integration.
Installing a smart security system can help ensure your home, loved ones, pets, and packages remain safe while you are away. You can be worry-free as you relax, knowing your system allows you to lock your doors remotely, monitor and record movement in your home, and even alert you when your children arrive home from school, all from your smartphone. GVTC connectHome® security combines protection, automation, and integration to take away the little fears that bug your mind when you are away from home.
Having a home security system not only keeps you safer but can make your daily life easier. You'd be amazed at how much you can automate these days with the click of a button. One capability GVTC connectHomeⓇ offers to do just that is smart scenes. These are instructions that trigger certain tasks based on parameters like time of day, location, and device type. For example, you can trigger the garage door to open as soon as you're a certain distance from home, or you can schedule your lights to turn off at a specified bedtime. Setting up smart scenes allows you to put all those mundane tasks on autopilot, so you have more time for what matters most to you.
That's why it's always a good idea to know which security products truly meet your household needs.
Introducing your Security Score
Your Security Score is a personalized score based on YOUR life. We're cutting out the technical security slang and bringing you a fun, simplified way to assess your security needs.
You can think of your score as your security personality. Taking care of all the research on our end, we've carefully created 10 simple questions to analyze your current security usage and lifestyle. Once you take our quiz, you'll receive a unique score tailored to you.
Based on your Security score, you'll have all the knowledge you need to make a confident decision about which security products are right for you. Your score will also give you a snapshot of your security-savviness while providing education to make your home safer.
Get Started Here! "How Secure is Your Home?" Take this short, easy quiz to find out!
---