Advantages of Fiber Internet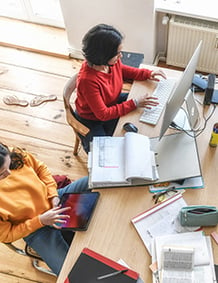 The COVID-19 pandemic has taught us a lot of things, especially how important technology is during these unusual times. It has kept us connected to our loved ones, allowed our children to continue their education, given us the opportunity to work from home, and kept us up-to-date on all the events happening around the world. It has also allowed us to stay sane during quarantine by letting us binge-watch our favorite shows, play video games with our friends, and purchase our groceries online. At GVTC, we understand that technology is not just a want anymore, but a vital component of our everyday lives. That is why we ensure our customers have the best products available, including our fiber internet.
With speeds anywhere from 4 to 20 times faster than the fastest cable connection, GVTC's robust Fiber-to-the-Home (FTTH) is the solution to all your loading problems. GVTC unleashed its Fiber Internet, boosting its already blazing fast-starting speeds from 100 Mbps to speeds now up to 250 Mbps for both upload and download speeds, with options to upgrade up to 500 Mbps and 1 Gbps. Always the most reliable connection, FTTH offers greater bandwidth, faster speeds, durability, and more!
Features of Fiber Optics
Ultra High-Speed Internet
Up to 1Gbps downloads
Online interactive gaming
Video conferencing
Streaming internet media
Crystal Clear Unlimited Telephone
Unlimited local and long-distance
Domestic and International plans available
Caller ID, call waiting ID, auto redial, three-way calling, call return, and more
Less affected by weather
Backup battery system for power failures
Crystal Clear Digital TV

·

More than 200 channels


·

Netflix, YouTube and Pandora from one remote




· Record up to 5 shows at once




· Less affected by weather




· Popular Sports Channels; Longhorn Network & SEC Network




· Whole Home DVR




· Pay-Per-View




· Digital Music Choice channels





Security Monitoring
Cameras, alerts, remote access
Security monitoring
24/7 service
Rapid response time
Flexible service options
UL ratings certified
In a time when convenience is essential, we appreciate anything that saves us time and takes the stress out of everyday tasks. Nowadays, you can do anything without leaving the comfort of your home and with the pandemic, we are having to utilize this option. With all the technological advancements in the world, isn't it time we say goodbye to those pesky loading times once and for all? The choice is yours!
For more information on our Fiber Internet plans, check out our website today!