Catch all the March Madness with GVTC Cable TV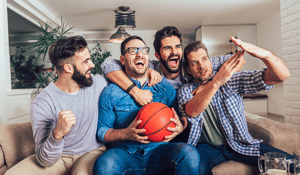 Get ready for one of the most exciting event in college basketball - March Madness is just around the corner! It's time to show some love for your favorite team, don your college gear, and start planning your watch parties. Check out the schedule below and make sure you have access to cheer on your team with your TV package.
When does March Madness start?
The Madness officially begins on March 12th, 2023, with Selection Sunday. Then, things pick up quickly soon after.
Schedule:
First Four play-in games: March 14th–15th

1st and 2nd Rounds: March 16th–19th

Sweet 16: March 23rd–24th

Elite Eight: March 25th-26th

Final Four: April 1st

National Championship: April 3rd
What channels play March Madness?
GVTC Channels that will broadcast the games:
First Four - TruTV

First and Second Rounds - CBS, TBS, TNT, and TruTV

Regional Semifinals and Final (Sweet Sixteen & Elite Eight) - CBS and TBS

National Semifinals (Final Four) and Championship - TBS
Tiers/packages customers need in order to see the games:
5/505 CBS -Local Tier

23/523 TBS -Top 100 Tier

28/528 TNT -Top 100 Tier

75/575 TruTV -Top 100 Tier
Trust us when we say that you don't want to miss any of March Madness! With the right TV package from GVTC, you'll never have to worry about that. So, gather your friends, stock up on snacks, and get ready to cheer on your favorite team!
---