Being A GVTC Member Pays Off!
GVTC has implemented many changes to improve our company over the last year, but one thing that will never change is our commitment to give our customers the best experience possible. GVTC pays it back to our customers by creating unique programs that allow us to return margins above and beyond GVTC's operating expenses to its member-owners. Currently, this comes in the form of Capital Credits applied each June and Member Dividends applied to your billing statement each month.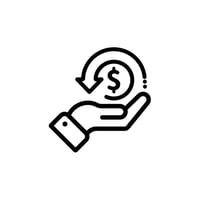 Since 2018, GVTC has been trimming active member payments by 20% every month* on qualifying services simply for being a loyal member of GVTC once membership is verified. This percentage, based on purchases of qualifying services, means the more members spend on GVTC products, the larger their monthly dividend.
This year, GVTC is continuing this program into its fourth consecutive year. The GVTC Board has again approved a 20% member dividend for active members opted into MDP! Due to the overwhelming success of the program and the increase in GVTC membership, GVTC expects to see an increase in MDP distribution from our $11.5 million distribution in 2021.
Unique to Texas telecom cooperatives, this program sets the bar for superior customer appreciation and member loyalty. Members will continue to receive their annual capital credit distribution as they always have. However, to qualify for the Member Dividend Program, active members are required to verify membership information by logging into their account at gvtc.com or by calling 800.367.4882 and speaking to a Customer Care Representative.
The more successful GVTC is, the more returns each member sees in proportion to their service subscriptions! It's a rare practice for even a cooperative to offer these benefits, but GVTC sees its members as partners who deserve the absolute best. For more information about this new GVTC Member Dividend Program, please visit gvtc.com/MemberDividend.
---