Halloween isn't Dead
Halloween hasn't ghosted us, but it should come as no surprise that trick-or-treating and Halloween celebrations might look different this year due to our current "new normal". We've compiled a list of safe and socially distanced activities that will still allow you and your family to get your spook on!
1.Host a Virtual Costume Contest or Pumpkin Decorating Contest
Invite all your closest ghouls and goblins to join you for a virtual costume contest. Create a petrifying playlist to boogie to as you have all attendees show off their fa-boo-lus looks!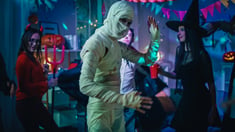 You can also gather remotely to decorate and carve pumpkins at home.. Share spooky stories while you work and give 'em pumpkin to talk about. At the end, award virtual prizes to the best pumpkin and costume. To ensure you have the fastest internet speeds available, check out GVTC's Premium WiFi Service. It is the most reliable connection, offering faster speeds, greater bandwidth, and durability. With speeds anywhere from 4 to 20 times faster than the fastest cable connection around, our fiber internet can be the difference between winning and losing the contest!
2.Have a Halloween Movie Marathon
Set up a haunted fort in your living room or a graveyard in your backyard and have a Halloween movie marathon of your favorite scary movies and TV shows. You can organize a Netflix party with your friends or just chill on the couch with your family. Don't forget to make some tasty treats and check out our Facebook page for full spooky schedules to start planning your spell-binding line-up.

Avoid dead zones and buffer screens during your marathon by doubling down on your online experience with GVTC's fiber internet. For starters, it provides you with greater coverage for strong internet connection regardless of location. What's usually a problem in multi-story homes, our Premium WiFi experience can deliver the same great quality connection everywhere you roam. What's more, is it allows you to extend your coverage with our Mesh Access Points..
3.Set up a Trick-or-Treat Table on your porch or in your Driveway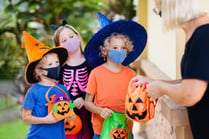 Creep it real this year by ditching the traditional Halloween candy bowls to minimize the spread of germs. Instead, decorate tables on your porch or front yard where you can set up individual bags or cups of candy. This keeps contact to a minimum while still allowing you to showcase your Halloween spirit and give children the opportunity to celebrate.
Keep an eye on the candy while social distancing with GVTC connectHome® security. GVTC connectHome® security combines protection, automation, and integration to provide a whole home experience that's controllable entirely from your smartphone. Starting at just $34.95/mo., the GVTC connectHome® base package comes equipped with three wireless sensors, one motion detector, one Lyric Touch Screen Controller, and one Skybell® HD video doorbell camera or indoor camera. You can check out these additional features and learn more about offers available in your area today at gvtc.com.
Halloween during these interesting times is a chance for you and your family to get creative and start new traditions. Finding safe ways to celebrate can create magical memories that will last a lifetime and have you saying Boo-yah!