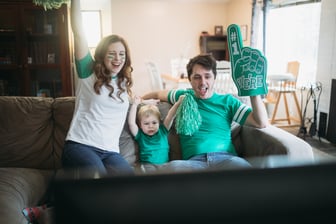 It's 2020, and people miss a lot of things. If you're a fan of tailgate parties, then you'll miss the camaraderie of outdoor tailgating.
Usually, 46 in every 100 tailgaters participate in outdoor tailgating parties six to ten times a year.
But 2020 changed everything.
Outdoor tailgating may not be happening anytime soon. But we can find a way around it.
Virtual tailgating.
Let's explore how to revive your tailgating fever by hosting hybrid-tailgating parties — lets you keep all the health and safety rules while enjoying your favorite sports.
If this sounds like music to your ears, then read on to get your game on.
Pre-Game Day Virtual To-Do List
The key to making a hybrid-tailgate party work is to make sure you've got all sides covered.
First, consider those who might not make it to the venue and match it up to those who will for a seamless experience.
To cater to your virtual guests, you'll need the following:
A good internet connection,
Choose a virtual platform that feels like a live experience
Spice it up with fun and collaborative virtual activities
Let me explain each of them.
Have a Good Internet Connection
Hosting a virtual tailgate party is more than just setting up a big screen and hanging up banners around to set the mood.
Remember, the game is going to be on for hours. You won't want your guests struggling with fuzzy videos and the possibility of getting cut at every third word.
Connecting your screen directly to the modem is the best way to go about it. GVTC provides residential fiber internet to ensure the energy doesn't drop midway into the game or discussion.
Pick a Suitable Platform For Everyone's Device
The next thing to check on your list is a suitable platform. Various platforms are great for video conference calls.
You can check out Squad. It's a magnificent option for up to nine people to video chat and share screens during the game.
Picking a platform is as crucial as picking an outdoor venue. As the host, make a fair consensus and agree to a meeting time prior to game day.
Jazz Up the Experience
Just because it's virtual doesn't mean it has to be boring. Jazz up the event so friends watching the game won't feel left out.
You can emphasize — in a fun way — dress codes that showcase your team colors and hang team banners in the background to keep the energy going.
You can also hold half-time games and trivia contests to make it fun, and everyone can join in the conversations.
Hosting an Outdoor Tailgate Party; Together, but Apart
Now you've got your pre-game virtual preparations out of the way; it's time to take the party outside.
Though some sports like football are slowly making a comeback, certain NFL teams are wary of letting fans attend their games.
Either way, you may not tailgate the usual way out of COVID-19 concerns. So you'll have to plan a little differently.
Health and Safety First
It would be best if you kept everyone safe. Get your guests to tell you if they've been exposed to the coronavirus or are showing symptoms. If they have, urge them to stay home and join the party virtually.
We're not out of the woods yet, so remind guests to wear a mask when they're close to each other. Also, keep disposable towels handy at the party for drying hands.
Keep Guests Together, but Apart
These days, hosting an outdoor tailgating party is better than hosting it indoors. You can arrange tables and chairs at an acceptable six-feet distance, so everyone is together and still far from each other.
All you need to do is set up a big screen with a projector. Make sure you're connected to premium WiFi for greater coverage and connectivity to more devices.
Limit Contact and Use Disposable Utensils
The entire purpose of having an outdoor tailgate block party this period is to have fun safely. Please make the most of it by ensuring your guests limit contact.
To play it safe, prepare boxed meals for your guests in preparation. This will ensure that people remain focused on the game rather than gather together, like in a BBQ cook-out.
If you think this option is too stoic, consider designating one person to serve all the food.
Share disposable plates, cups, napkins, and utensils as a necessary COVID-19 precaution.
Take it the extra mile and offer your guests marking pens to write their names on these utensils.
Food, Drink, and Game Ideas for Your Tailgate Party
As a tailgater, you should know food, drinks, and games are just as important as tailgating. Your guests will look forward to watching a splendid game over great food and drink.
Bonus points if your team wins.
Though your virtual guests may not be part of the physical jamboree, they'll be just as excited. They can choose from a variety of food and cook in the comfort of their homes.
Most importantly, they won't wait in line to use the loo. To make it fun and satisfying, carry everyone along by letting them know of the events you've planned out before the game starts.
We've put together some great ideas to up your tailgate party a notch.
Serve Tailgating Favorites
Every team has got their favorites. From the soft pretzels of New York City to the famous fried cheese curds popular in Wisconsin and Kansas City style BBQ.
If you don't fancy that, then consider ordering chicken wings, burgers, or pizza from a local business. Or try meatballs, chill-cheese nachos, and hoagie dip as part of your menu.
Create a Team-Themed Drinking Game
Do you know the drinking games that take place during huge events like the Super Bowl or Presidential debates?
Great. You can get inspired and create something similar for your tailgate party.
Did we miss a goal, or couldn't convert a Third-and-one? Take a drink.
You get the point. Be creative and let everyone in on it.
Hold a Trivia Contest During Half-Time
Halfway into the match, and everyone has something to say. Every tailgate has that group of know-it-alls. Half-time is the best time to get everyone talking before the second half kicks off.
But if everyone is talking, then no one is talking. Lessen the tension in a fun way by holding trivia contests to be played at half-time.
These are some suggestions:
You can ask up to 10 college football questions.
Make a time limit, so no one cheats using the internet.
Use a simple point system.
Feel free to add or subtract depending on your group's choice.
Then, Game On!
We may have changed our modus operandi when it comes to tailgating at football stadiums, but the excitement has not dwindled.
If 2020 has taught us anything, it's that we can make the most out of trying situations. We just have to address it a little differently.
With safety in mind, you can make your tailgate block party work too—Albeit, with a little modification
Virtual tailgating and hybrid-tailgating are super options to consider this season.