The Best Chrome Extensions for Working From Home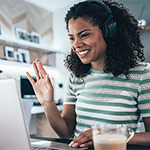 Today, we woke to work rather than go to work—the future workplace is now upon us.
No thanks to the COVID pandemic. The unprepared shift to remote work leaves millions of workers and businesses navigating uncharted waters and grappling with new productivity rules.
And working from home is not going away soon.
A study found that 20% of Americans were working remotely before the pandemic. But today, it has risen to 71 percent, and more than 50 percent would want to continue working from home after the pandemic.
In this article, you'll learn what Chrome extensions you can use to adapt to the new normal, stay productive, motivated, and safe online.
So let's dive into it.
Checker Plus for Gmail

—Manage Emails in One Place
This Chrome extension is a fast and easy way to manage all your email accounts.
It connects all your email accounts in one place and sends you notifications in real-time. In addition, the extension lets you read, delete and compose emails on the fly without opening Gmail or leaving your current tab.
Checker Plus for Gmail has a 4.7-star rating and over one million users.
Best for: All remote workers
Price: Free
Grammarly for Chrome

—Write Confidently
Grammarly for Chrome lets you write smarter, error-free, and confidently.
The extension helps you deliver high-quality writings. It catches grammar, spelling, and punctuation errors in real-time, saving you tedious editing time. In addition, Grammarly makes your work concise, punchy, clear, and plagiarism-free.
The extension has a 4.6-star rating and over ten million downloads.
Best for: All remote workers
Price: Free and premium (for the best value, use the Annual $12 per month plan)
Dashlane—Manage and Safeguard Passwords
Dashland saves you the pains of memorizing passwords.
The Chrome extension manages and protects all your passwords in one place. It lets you generate strong passwords, share passwords securely with team members, autofill login and personal data.
Also, you can sync all your devices and access your passwords anywhere.
Dashlane has a 3.6-star rating and over three million users.
Best for: Remotes workers managing numerous web accounts.
Price: Free and paid (the $3.99 per month plan is the most popular)
Todoist for Chrome—Stay Organized
Todoist lets you plan your days ahead, track progress, and stay productive.
The extension helps you stay organized with a to-do list. You can set up, prioritize and complete tasks from the browser without switching contexts. It also lets you establish daily habits, add websites as tasks, and save items on your wishlists.
Todoist has over 800,000 users and a 4.7-star rating.
Best for: All remote workers
Price: Free and paid (billed annually at $3 per month)
Buffer—Queue Social Media Posts
The chrome extension allows you to schedule content on Buffer.
Buffer is a web scheduling tool enabling users to auto-share content on Facebook, Twitter, and Linkedin in one click or schedules social media posts. You can also track performance and monitor growth with the analytics tool.
The extension has over 200,000 users and a 4.7-star rating.
Best for: Social media managers
Pricing: Free and paid ($5 monthly, per social media channel)
StayFocusd—Focus on Tasks
StayFocusd improves your productivity by limiting the time you spend on time-wasting websites.
The extension lets you allot time to websites, and when used up, it blocks access to the websites for the rest of the day, enabling you to focus on tasks. You can block an entire website, specific subdomains, paths, pages, and in-page content like videos, games, images, and forms.
StayFocusd rating is 4.5 and boasts over 600,000 downloads.
Best for: Social media freaks
Price: Free
The Great Suspender—Avoid Slow Computer
The extension makes the Chrome browser work smoothly by suspending inactive tabs.
It suspends tabs you have not viewed after a specified period, freeing up memory and CPU resources consumed by the tab. But you can whitelist the websites or URLs you don't want the extension to suspend.
Only about 60,000 people are using the extension, and it has a 3.9-star rating.
Best for: If you work with too many tabs opened at the same time.
Price: Free
Evernote Web Clipper—Save Things on the Web
Evernote lets you collect ideas and inspirations and save them in your account.
With this extension, you can save anything you see on the web, take screenshots, make annotations, and highlight what matters. Evernote lets you quickly access them on any device and anytime.
Additionally, Evernote allows you to share and discuss ideas with others.
The extension has a 4.7 rating and has over three million downloads.
Best for: Content writers and researchers
Price: Free and paid (the personal plan is available at $7.99 monthly)
Just Read—Eliminate Web Distractions
Just Read removes web distractions, allowing you to read only the texts you care about.
You can put a web page in reading mode by removing page styling, ads, pop-ups, and comments. The extension also allows you to use your custom style, print the article's custom-styled version, and more.
Users rated it 4.7/5, and over 200,000 are using the extension.
Best for: content writers and researchers
Price: Free and premium billed $1 monthly.
Mote—Send Voice Notes
Mote provides fast and user-friendly voice messaging capabilities.
You can easily add voice notes and comments to shared documents, emails, forms, and assignments with the extension. Mote integrates with Google Docs, Sheets, Slides, Forms, Classroom, and Gmail for easy recording.
The extension also lets you create voice notes for any website or application.
It has a 4.7-star rating and one million users.
Best For: Remote team members
Price: Free and paid (the individual and team plan comes at $39 monthly per user)
Asana—Collaborate With Team Members
Asana provides a collaborative platform for team members.
It helps users quickly add tasks from any webpage, create project timelines, set up and assign tasks to team members. In addition, you can track task progress, communicate with the team, and get notified in real-time.
Asana lets you run your business on the cloud, and the extension simplifies this.
The chrome extension has over 100,000 downloads and a 3.4-star rating.
Best for: Team members
Price: Free and premium billed $10.99 per user monthly.
Vidyard—Record Your Screen
Vidyard helps you record high-quality video to communicate effectively.
With the extension, you can capture your screen for up to an hour, share the video, and track who's watching. Furthermore, Vidyard allows users to draw on-screen while recording, trim video, and add animated GIF thumbnails.
You can also embed video directly on any website or push it straight to YouTube.
Users rate the extension 4.3, and over 400,000 people use it.
Best for: Salespeople and team members
Price: Free and paid (the individual comes at $15 monthly when billed annually)
Google Doc Offline—Work While Offline
This extension transforms Chrome into an offline editor.
It allows you to continue working even when you lose internet connection, and additionally, you can access Doc, Sheet, Slides, and Drive without connecting to the internet. It also allows you to access your documents anywhere and seamlessly copy and paste.
Over ten million people use the extension.
Best for: All remote workers
Price: Free
Wrapping it Up
Staying productive while working from home could be challenging, but you can make the transition seamless with these Chrome extensions.
Download the extensions to your Chrome browsers to get more jobs done, stay focused, collaborate with team members, and work more effectively.
And a good internet connection ensures you don't run into avoidable interruptions.
---