GVTC Communications Gears Up for Solar Eclipse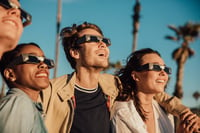 The City of Boerne is gearing up for not one but two extraordinary celestial events that promise to captivate both residents and visitors alike. The first of these phenomena is the Annular Eclipse, scheduled for Saturday, October 14, 2023. During this event, lucky observers in Boerne will witness a unique sight as the sun transforms into a "ring of fire" around the moon.
By taking proactive steps, GVTC guarantees a seamless experience while maintaining essential telecommunications services.
On Friday, October 13, in anticipation, GVTC has meticulously prepared a comprehensive eclipse plan. GVTC will temporarily halt all installations in the Boerne area, which includes Boerne, Balcones, Kenberg, and Sabina. However, standard installations will continue without interruption for all others in our service area. Additionally, GVTC's Boerne office will be closed to customers. The parking lot at the Boerne office will remain accessible for customer convenience. The Smithson Valley (SV) office will maintain regular hours, providing uninterrupted service to GVTC customers. Customer Care representatives will be available during their usual phone hours from 8 a.m. to 5 p.m., ensuring that customers can reach out for assistance as needed.
On Saturday, October 14, during the eclipse, there will be no installations in the Boerne area, while normal installations will proceed as scheduled in all other areas. GVTC customers will have access to the payment night drop at the Boerne office to enhance customer convenience further, allowing them to make payments even during the eclipse event.
Tips for Residents
If you're a resident of Boerne, you're in for a treat with a front-row seat to these celestial wonders. Here are some tips to prepare for the eclipse:
Plan Ahead: Schedule your errands and appointments early to avoid the crowds.


Stock Up: Some supplies may be limited due to high demand, so if you need something important, get it early.


Fuel Up: Fill up your gas tank to avoid long lines at gas stations.


Cash Reserves: If you use cash, visit your local bank or ATM before, as ATMs may be impacted by increased cellular traffic.


Emergency Preparedness: Use this event as an opportunity to check your emergency kits and plans. Ensure that family members and friends are aware of your plans.


Water Conservation: To ease pressure on public water systems, consider postponing lawn watering during the anticipated impact days.


Safely Viewing the Eclipse- Never look directly at the sun without proper protection, except during totality. Staring at the sun can seriously damage your eyes. Fortunately, there are safe ways to enjoy this celestial event, such as using solar filters or projecting the sun's image onto a screen.
So, as you prepare to witness the celestial marvels in Boerne, remember that GVTC has got you covered. You can enjoy the eclipse events with peace of mind, knowing that GVTC has thoughtfully prepared to make your experience as smooth and enjoyable as possible.
---