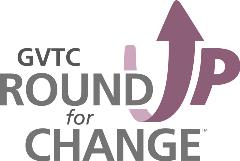 GVTC has a new program to help support the good works of The GVTC Foundation. Round Up for Change allows customers to automatically increase their monthly billing statement to the next dollar amount. Proceeds are donated to The GVTC Foundation who supports our community with donations to local nonprofits and offering two college scholarships to area high school students.
Joining forces with The GVTC Foundation is easy. Go to GVTC.com/roundup and click the Log in to Enroll button, follow the steps and that's it. Or, you can call 800-FOR-GVTC and one of our customer service representatives can help you with enrollment. A video on the Round Up for Change website has more information on the program.
Your small change will add up to make a big difference in our community. Take a few minutes to enroll today!