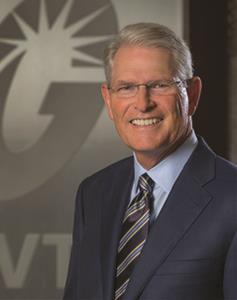 It's that time of year again when we look back at the resolutions we set at the beginning of the year and decide whether we succeeded in fulfilling them or not. I'm proud to say that, GVTC not only continued to be your 21st century communications provider, but we're also staying true to our promise of Creating Fiercely Loyal Customers.
We developed more value-rich products to meet our customers' needs. Approximately 75 percent of rooftops in our expansive 2,000 square mile service area is connected to our fiber-optic network. And, we continue to explore new opportunities to bring our fiber network to existing and new customers. We offer SpeedSync®, with equal download and upload broadband speeds, the only broadband product of its kind in the Hill Country, generating significant sales. Our partnership with Honeywell enhances our GVTC connectHome® product, which offers security and smart home management products on par with any residential security offering in the nation.
Through our newly implemented Workforce Management System, we're using technology to schedule and complete all new sales and upgrade installations within three working days. A reorganized customer care call center eliminates 600 call transfers per month. Improved customer communication includes implementing more automated reminders through emails, phone calls and text messaging for installation, service appointments and payments. We launched a new online request for assistance feature on our website, leveraging technology to provide quick and efficient processing of support issues and sales inquiries. We continue to futureproof homes and businesses with our state-of-the-art fiber network and our leading-edge products and services.
With ongoing focus on Creating Fiercely Loyal Customers, we will benefit from advocacy to support doing business with GVTC. Starting in the first part of next year, we encourage customers to provide feedback, while promoting our brand and our products. We continue to thrive because of our customers and we remain faithful to our promise of keeping them at the center of all that we do.
Philanthropy has always been essential to GVTC's success. Over the past decade, The GVTC Foundation has donated more than $2.65 million to help nonprofits serve the underprivileged in our communities. It also provides two $20,000 scholarships to deserving youth residing in our service area.
No doubt during the holiday season many of you will be using multiple broadband devices in the home to communicate with family and friends to wish them well. Our advanced technology helps us stay connected, where others are not as fortunate. So, let's say a prayer of thanksgiving for all our blessings and offer a prayer of hope for others. In the spirit of the season, I'd like to wish you and your families a warm and peaceful Christmas and a prosperous New Year. And, most of all, I want to thank you for being Fiercely Loyal Customers.
Ritchie Sorrells
CEO, GVTC