Best Connected Devices of 2018 | Smart Home Devices | GVTC
Smart home assistants, voice-controlled lighting, and smart security systems are technologies that are still in their infancy, however, recently they have become more prevalent in our lives. Google, Amazon, and other players in the tech industry provided devices that filled a need, and it didn't take long for these devices to become mainstream.
In 2018, these smart home, Wi-Fi enabled devices are more encompassing and impressive than ever before. Using your smart device is more than just asking your Amazon Echo to play your favorite song. You can use them to control your lights, turn down the temperature in your home, and much more.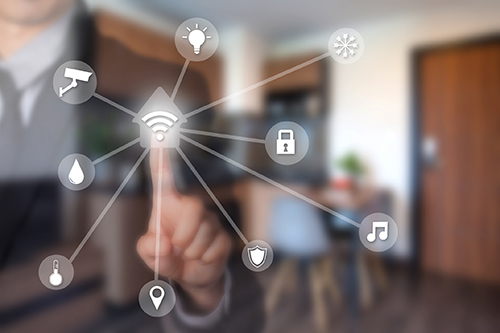 These smart home devices offer a level of convenience we've never before experienced. You can order a pizza, turn on your smart camera, or activate your sprinkler system all with a simple voice command. It's safe to say that smart home devices have gone from the realm of fun gadgets and have entered the world of useful tools.
What is a Smart Home Device?
But how, exactly, do we define what a smart home device is? Smart home devices are components that allow you to automate tasks in your home while connected to your Wi-Fi network. This can be done through voice commands or via a central hub.
We've already talked about some of these device capabilities. You can control your thermostat from work, set your alarm via voice, and watch your puppy tear up your favorite pair of shoes through a smart camera. Two of the more popular devices are Amazon's Echo speakers and Google's Home Assistant. We'll talk more about them shortly.
Smart Assistants
Smart home assistants have evolved from smart speakers to digital helpers that we've come to rely upon. They reside in our homes and eagerly await our spoken commands for anything from playing "Jump in the Line" to telling us the current time and weather in Shanghai.
The challenge with smart assistants is that there are two very distinct camps: Google Home and Amazon Alexa. These two don't play very well together, so if you plan on using multiple smart devices in your home, you'll want to ensure they are compatible.

Google Home
If you're looking for a great home assistant that ties into multiple smart home devices, then look no further than the Google Home. This device has the advantage of using Google's own search capabilities and blending it with a high-quality voice-controlled assistant. With your Google Home, you can manage and create reminders, get traffic and weather reports, and check your schedule all with the sound of your voice.
Google Home brings support for multiple Google accounts and even has the ability to determine which account to reference based on the sound of your voice. It goes without saying that the Google Home has great features and capabilities, however in a few areas the device is still a little clunky.
For instance, when performing the simple task of adding an event to your calendar, the process is needlessly frustrating. However, Google more than makes up for it with its Chromecast capabilities. The benefit here is that you can use voice commands to tell your Google Home to stream a show or movie to your television.
Amazon Echo
If you prefer Amazon's products over what Google has to offer, then the Amazon Echo is right up your alley. With the Echo you'll have access to all of Amazon's great products and features, including Amazon Prime.
Now in its second iteration, the Amazon Echo provides a much broader playing field when it comes to smart home device support than the Google Home. Additionally, the Amazon Echo supports dozens of music streaming services and offers many skills which include ordering a recipe, calling an Uber, or reading a recipe.
In addition to the Amazon Echo, the company also offers many other smart speakers with Alexa. You can choose between the Echo Plus, Echo Dot, Echo Show, and Echo Spot. All of these devices offer everything you get with the Amazon Echo along with a great smart home experience.
Smart Thermostats
Smart thermostats are great devices to own thanks to the impact they not only have on the comfort of your home, but on the size of your energy bill each month as well. Owning a Wi-Fi thermostat can help alleviate the costs you encounter when your HVAC system is on all day and all night.
It does this by turning your heating and cooling systems off when you're not at home and setting them to the temperature you prefer when you are. Having a smart thermostat goes beyond just having a climate-controlled schedule.
It allows you to create complex schedules for each day of the week, gives you complete control over the temperature in your home, and provides remote access so you don't have to worry about whether or not you forgot to set the thermostat when you left for vacation.
Ecobee4
Everyone looking for a smart thermostat knows about the Nest, and we'll get to it, but let's begin with another great smart home thermostat, the Ecobee4. The Ecobee4 takes things to another level by providing sensors you can place throughout your home.
Most smart thermostats rely only on the sensor built-in to the device. Ecobee views this as a drawback since one sensor won't tell you the true story of the climate for your entire home. Sensors in every room gives you the ability to be comfortable in any room, not just the ones closest to the thermostat.
There's no need to worry about smart assistant integration with the Ecobee4 Wi-Fi thermostat. It is compatible with both the Amazon Echo and Google Home, along with many other smart home devices and systems.
Nest
Of course, when it comes to smart thermostats, Nest is always a part of the conversation. This learning thermostat has a sleek and sophisticated design and has arguably the most comprehensive learning algorithm on the market today. The Nest Wi-Fi thermostat learns your behaviors and patterns and adjusts the temperature automatically, so you don't have to worry about it.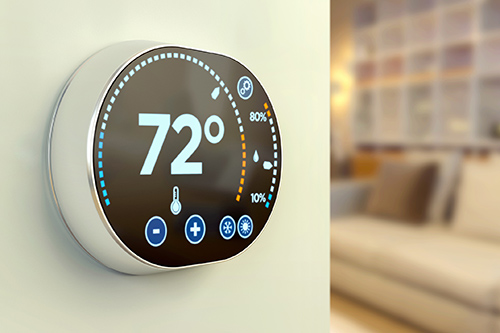 Not only does Nest adjust the temperature in your home without your involvement, but it also knows when you're home and when you're not. Using geofencing technology, the Nest Wi-Fi thermostat will bump the temperature in your home up a few degrees after you leave to save on energy bills. When it knows it's time for you to head home, it begins to adjust the temperature so it's just right when you walk in the door.
From an integration perspective, the Nest thermostat works well with both the Google Home and Amazon Echo devices. Additionally, Nest has its own contained system, so if you want to purchase additional devices or gadgets for your smart home, they'll integrate seamlessly with your Nest smart thermostat.
Smart Lighting
If you're looking to get into the smart home area, one great place to start is with lighting. Smart home lighting doesn't require much explanation, is easy to install, and before you realize it, you'll have the ability to control the lighting with both your home and the sound of your voice.
Smart home lighting is ideal because you have the ability to adjust the brightness, tone, and color of your lights whenever you want. There are several options when it comes to smart lighting, so be sure you identify an option that will work well with what you already have.
Philips Hue
There's no question that the biggest name in smart lighting is the Philips Hue. These Wi-Fi bulbs are perhaps the best available and will provide your home with natural, peaceful tones. Additionally, setup and installation are a breeze and the smartphone application is easy to use.
The drawback here is that you are unable to use the Hue bulbs without the hub. Unfortunately, that means to get started using this lighting system, you're going to pay for more than just a Wi-Fi enabled light bulb. The cost is worth it though, since the Hue light bulbs give you the option to choose from 16 million colors and a variety of ambient settings
Lastly, it's easy to integrate your Philips Hue with both Amazon Echo and Google Home. Once you have everything place and set up, you'll have the ability to control your lights with just the sound of your voice.
LifX
Where Philips focuses on providing the standard warm tones of a typical bulb, LifX goes the opposite direction and strives to provide vibrant and bright colors. So, if you need a feature light, a method to fill your entertainment area with a deep blue or warm red, LifX is the way to go.
LifX offers interactive brightness settings that range from 1-100%, along with a fun color wheel that lets you customize the lighting in your home. The bulbs themselves are Wi-Fi enabled, so you can connect them right to your network and get started with ease.
Just like with Philips Hue bulbs, the LifX Wi-Fi bulbs work well with both Google Home and Amazon Echo. So, if you sit down to watch a movie with your family and forget to dim the lights, just say the word and your smart assistant, along with LifX, will take care of it for you.
Get Connected with GVTC
Using smart home devices means you need a Wi-Fi connection fast enough to support multiple components. Whether you need a new connection or just need to upgrade your current one to expand your bandwidth, GVTC has what you need. Shop our multiple fiber-optic options and let us help connect you so you can connect your home.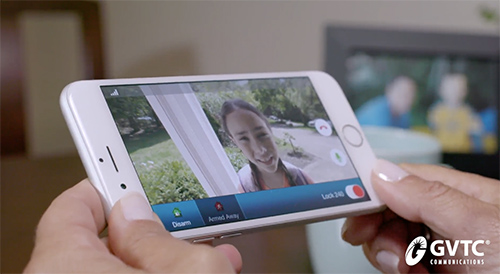 In addition to more bandwidth, GVTC can also help you by providing connectivity and control of your smart home with our Total Connect app. With our app, you can control your thermostat, lights, security system, and more right from your phone. With the Total Connect smartphone app, you are in control of your smart home devices no matter where in the world you might be.