9 unexpected smart devices to add to your home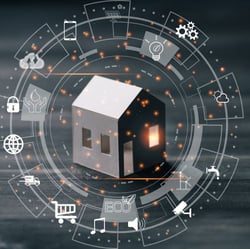 Smart homes are on the rise! As of 2023, there are an estimated 60.4 million households actively using smart home devices. That's up 3% from last year and represents nearly half of all US households.

By now, we've all heard of smart thermostats, smart doorbells, and things of that nature, but as the world of smart homes grows, so does the world of smart devices. Here are 9 unexpected smart devices you may want to add to your smart home.


Mattress Cover
Eight Sleep is making it possible for you to create your perfect smart bed, with a simple censored mattress cover. Their censored mattress cover is designed to personalize and improve your sleep. By monitoring and analyzing more than 15 different sleep factors, like temperature and sleep movement, Eight Sleep's smart mattress cover can help you get your best night's sleep. And best of all, no need to continue wearing any devices to bed. This censored mattress cover will sync with and report directly to your favorite online activity tracker.


Air Purifiers
Since 2020, it seems like you now see air purifiers everywhere, but did you know there are now smart air purifiers? Airmega is just one of the smart air purifiers on the market. With the Airmega air purifier, you can monitor your indoor air quality, filter status, set a timer on the unit, check outdoor air quality, and even turn the product on and off all from a smartphone app. It even has Google Home and Amazon Alexa integration options.


Toaster Oven
Make cooking even easier with an intelligent toaster oven! The June Intelligent Oven has six carbon fiber heating elements, uses artificial intelligence to recognize the different food placed in it, and can cook your food 25% faster than most ovens. Making life even easier, you can use the June app to preheat the oven, add more time to your timer, get notifications when food is almost done, and even find new recipes!


Egg Tray
How many times have been in the middle of baking cookies or preparing breakfast only to realize you've run out of eggs? The Quirky Egg Minder is here to solve that problem. A smart egg tray that you can sync with your smartphone and will tell you when you're running low on eggs and can even tell you which of your eggs are closest to expiring.


Utensils
Smart forks are here to help you remember to slow down when you're enjoying a meal. The Hapifork is a Bluetooth-enabled smart fork that will vibrate when it senses you eating too fast. Science has shown that eating too fast can cause weight gain, digestive problems, gastric reflux, and other problems. Besides helping you eat slower, the Hapifork can also track how long it took for you to eat your entire meal, the number of bites you took in a minute, and how long you waited between bites.


Pet Feeders
Want to feed your four-legged friend remotely or check on them while you're at work? Smart feeders are here to help! With multiple smart pet feeders on the market, their capabilities are varied. Depending on the one you choose, you may be able to program meals for your pet throughout the day, send them treats whenever you feel like it, monitor their activity from wherever you are, and even video chat with them if you'd like.


Litter Box
I think we all can agree, the worse part about owning an indoor cat is cleaning the litter box. However, there are now multiple different smart litter boxes on the market, ready to make your life so much easier! From cleaning your litter box on its own to letting you know litter needs replaced, smart litter boxes can do it all!


Snore Stopper
Does your partner keep you up at night with their snoring? Or maybe you're the culprit. Whoever is causing the disruptive sleep, Nora, can solve your problems. Nora is a device you stick under your pillow (or your partner's). When it detects early snoring, it will adjust your pillow slightly to open your airwaves and stop the snore.


Leak Detector
Want to conserve water and protect your home from leaks without having to even really think about it? Phyn is a smart water assistant you can install under your sink. Phyn hooks into your water system and can detect leaks anywhere in your home. It is also able to keep track of your water usage (by fixture) and even detect ice forming in your pipes.
Ready to add some smart devices to your home? Make sure your WiFi is ready for the additional work by upgrading your service to the fastest most reliable internet around! Click here for more information.

---