Halloween Marathons: 31 Nights of Halloween, AMC Fright Fest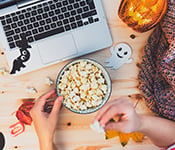 It's the Halloween season, and we're ready to get into the gory theme of things. Cue the gruesomely tasty food tributes to Halloween's spookiest monsters, the scariest decorations, and of course, spine-chilling horror movie marathons on TV.
What better way to get into high spirits for the season than with a marathon of the most horrifyingly exciting movies and series in anticipation for this year's trick-or-treating?
And so we go back to America's leading yearly entertainment programming for Halloween seasons: The AMC FearFest.
This 2021, FearFest is bigger and starts on the first day of October till the D-day.
Get excited for 31 nights of thrilling and chilling horror and genre marathons. Here's a run-down of what to expect in this year's AMC FearFest schedule and when to catch your favorite horror stories.
What to Expect in this Year's Line-Up
In their official press release in late September announcing the return of FearFest, AMC Networks promised 600+ hours of iconic horror movies and series. Over 90 Halloween classics — the Halloween, Scream, The Omen, and Final Destination horror franchises and some of Stephen King's best titles — will fill these hours.
This year, AMC has also included several episodes from The Walking Dead, Creepshow, and Eli Roth's History of Horror.
Long-standing FearFest Traditions are Still Standing
And ridiculously bigger this year.
For instance, the customary homage to the undisputed King of Horror is often marked with a Night of King-inspired horror movie marathon. This year, the entire day on Saturday the 9th of October, 2021, features movie adaptations from the Stephen King library, starting from 9:45 am.
Of course, FearFest opens up with movies from the Halloween franchise. This year, AMC plans to round off with two days of back-to-back marathons of films from this same franchise throughout the 30th - 31st of October.
Will FearFest Always Be this Big?
We might be jinxing it by asking, but everyone's already thinking about it. So we might as well go ahead and make it public:
As you know or might not have known, FearFest hasn't always been this 31-days horror festival that this year's programming promises to be. It was much shorter in previous years — starting mid or late October.
However, this year, to mark FearFest's 25th anniversary, AMC has decided to get viewers pumped up a lot sooner with an entire month of horror celebrations.
Nevertheless, viewers have always wanted this arrangement — the network probably considered their viewers' desire. For years, horror fan forums and blogs have been buzzing with comments requesting that AMC makes FearFest a full-month celebration.
Plus, after the year we had in 2020, the opportunity to kick back and binge on hair-raising horror and captivating genre shows this year is much appreciated.
And now everyone is wondering if FearFest will go back to its usual format by next year's Halloween or if it'll remain this way annually.
Well, here's to hoping AMC starts FearFest this early in October of every year leading up to Halloween night on the 31st.
But just in case they don't, try not to miss out on any of this year's exciting new features and old favorites. Check out the full schedule of 2021 AMC FearFest for your viewing pleasure.
AMC FearFest 2021 Schedule
Note down the time and dates for your favorite genre viewings as 2021 FearFest begins on Friday, the 1st of October. Here is the programming schedule for each day. All times are in EST.
Let's Begin the Countdown!
There you go. Time to get down to business and make a list of shows and movies you're excited to watch this Halloween.
But before you settle in, consider a TV plan that's suited for the entire family, and affordable. You can get the AMC Live channel and loads more with a single GVTC TV plan for your home.
Get the power to enjoy full episodes of America's favorite and most horrifying TV series on a bigger screen. What's more, you can control how you and your kids experience TV entertainment to ensure safe viewing.
With a GVTC cable TV subscription, you can connect directly to your favorite streaming apps including Netflix, YouTube, and Pandora.
Find out about other interesting offers available in your area.
---