GVTC Ranks #1 Nationwide on Netflix ISP Speed Index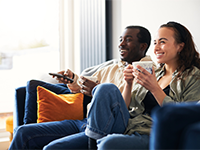 There's not much worse on a Friday night than waiting for your movie to buffer at snail speed. For all our streaming fiends out there, we're with you on this. In today's media-saturated world, watching the loading bar for three seconds might as well equate to watching paint dry.
Many internet service providers will claim fast and reliable speeds, but we look to leaders in the tech industry to help tell our story.
Ranked on Top
GVTC broke the fastest speeds reported by Netflix in the March 2020 Internet Service Provider (ISP) Speed Index with an average speed of 5.12 Mbps during primetime streaming hours.
Since landing a spot on this Netflix board in September 2015, GVTC has steadily improved its services to climb the ladder. Since September 2018, we've held the #2 position nationwide every month for 18 consecutive months. Each month, Netflix releases a report on the fastest ISPs providing blazing speeds to their customers, and every month, our Texas Hill Country based telecom consistently outperforms top competitors in the industry.
Netflix ISP Speed Index
According to Netflix, the ISP Speed Index is a measurement of internet speed performances during peak streaming hours. It's determined by calculating the average primetime bitrate for Netflix content streamed by Netflix subscribers in a particular month. Primetime hours are commonly defined as 7:00 PM - 10:00 PM CST, and measurements used for Netflix' ranking consist of speeds available via all end-user devices during this time.

It's a truth test, really. A way for Netflix - and other streaming platforms - to understand all angles of the end-users' experience while also promoting ISPs with the best service. And GVTC is committed to providing just that.
GVTC Premium WiFi
With our newly introduced GVTC Premium WiFi, customers have a world-class fiber internet service at their fingertips. It offers greater home coverage, stronger throughput for faster speeds (great for streaming!), and more device connectivity. And the best part? You can control is all with our GVTC WiFi App.
You're one click away from enjoying what Netflix deems is the fastest internet speeds around. Want to learn more? See what offers are available in your area today or give our customer support a call at (830) 885-4411 for more information.