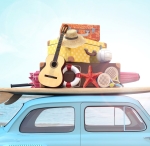 Imagine laying in a hammock in your own private cabana while listening to the relaxing sound of water flowing, watching your family swim and kayak in the beautiful blue lagoon. This can be your reality with the GVTC summer giveaway! For a limited-time only sign-up for any security product or upgrade your current GVTC security product and you will be entered to win a $250 gift card to Son's Island.
Son's Island is a hidden island getaway in Seguin, Texas. Once you cross the bridge over to the island, you'll discover a very special place. Large cypress trees & cabanas outline the 4,000-foot perimeter lakefront. Tropical plants and décor encompass the cabanas, which include a picnic table, a hammock, lounge chairs, a BBQ pit, comfortable seating, running water, electricity, a private swimming/fishing dock, and a bar top table and stools.
The island also offers many activities, including beach volleyball, kayaking, paddle boarding, and even overnight camping options! The best part is that there is an abundance of fresh, clean air and warm sunshine on the island! All guests get to enjoy their OWN private cabana area, never being within 6 feet or more of another group.
We all need a getaway from our busy lives, and this staycation is the perfect opportunity. Even better, is the fact that you can ensure your home, loved ones, pets, and packages remain safe with your GVTC security products. Be worry-free as you relax, knowing your system allows you to lock your doors remotely, monitor and record movement in your home, and even alert you when you receive your Amazon delivery, all from your smartphone.
Don't miss out on the chance to win a trip to this awesome Texas tropical paradise! Click here to see the official giveaway rules. Check out our security products today!