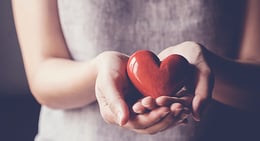 The past year has brought about feelings of uncertainty unlike any of us have known. The coronavirus pandemic and quarantine has put all of us in unprecedented levels of isolation. While today's technology has allowed us to remain connected with our friends and family via social media and video chats, the same can't be said about the small daily interactions you have with the members of your community on a daily basis.
Being a part of a community can make us feel as though we are a part of something greater than ourselves. It can give us opportunities to connect with people, to reach for our goals, and makes us feel safe and secure. There are many benefits to donating your time or money to your community, including growing your network, learning new lessons, and getting new inspiration and motivation.
Looking for a way to get involved in the community? Becoming a member of the Round Up for Change program is a great and easy choice. For less than a dollar each month, you can join thousands of people looking to make a difference. When a customer enrolls in the program, they agree to have their monthly billing statement rounded to the nearest whole dollar each month as a donation to The GVTC Foundation. Once matched by GVTC, those pennies go directly towards scholarships, grants, and event sponsorships throughout GVTC's service area.
Ready to be a part of the change? Signing up is easy. All you have to do is visit gvtc.com/roundup and select the "Login to Enroll" button to follow enrollment instructions. Or, you can call 800-FOR-GVTC and speak to a customer service representative directly. If you're not a GVTC customer, that's ok! While you won't be able to "Round Up" anything, you can always contact us at 800-FOR-GVTC, visit our website, or email info@gvtcfoundation.com to make a one-time or recurring gift to The GVTC Foundation.