The Round Up for Change program works by allowing customers to donate a small amount each month through their billing statements to the Foundation. All proceeds raised from this program are then matched by GVTC and donated to The Foundation who supports our community through charitable contributions and volunteer service projects. When a customer enrolls in the program, they agree to have their monthly billing statement rounded to the nearest whole dollar each month as a donation to The GVTC Foundation. Once matched by GVTC, those pennies go directly towards scholarships, grants, and event sponsorships throughout GVTC's service area.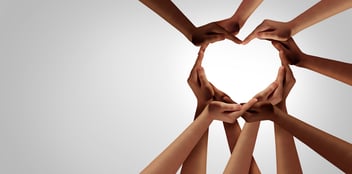 There's something special about giving back to your community, especially during the unprecedented times this year has brought. Volunteering your time is challenging with Covid-19, but GVTC has a safe way to donate without leaving your home. The GVTC Foundation, GVTC's philanthropic arm, created The Round Up for Change program to help fund community efforts. For less than $1 each month, you can be a part of a mission to enhance the quality of life for those throughout our community.
This year we are dedicating the month of October to our Round Up for Change program with our very first Round Up for Change drive. Our goal is to have as many new members enrolling as possible by the end of October to help with our largest project of the year, The GVTC Foundation Thanksgiving Giveback. The drive launches today and will end November 2, but don't worry you can always enroll to be a part of the change. With your help, we can continue to partner with local food pantries and organizations to raise food items and monetary donations to provide families in need with complete Thanksgiving meals during the holiday. The local food pantries we partner with provide The GVTC Foundation with the list of families that we deliver meals to, and each year GVTC employees and their families package and personally deliver meals to each family. In 2018, we delivered a record-breaking 277 meals across our service area, and 899 meals over the course of 6 years of doing this project. The GVTC Foundation also works with over 100 other local nonprofit partners each year, doing various projects that help serve people in our community.
Be a Part of the Change
Ready to be a part of the change? Signing up is easy. All you have to do is visit gvtc.com/roundup and select the "Login to Enroll" button to follow enrollment instructions. Or, you can call us directly at 800-FOR-GVTC and speak to a customer service representative directly. If you're not a GVTC customer, that's ok! While you won't be able to "Round Up" anything, you can always contact us at 800-FOR-GVTC, visit our website, or email info@gvtcfoundation.com to make a one-time or recurring gift to The GVTC Foundation.