Hop into Spring with New Premieres!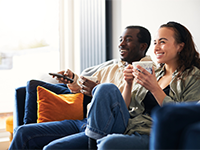 It is time to personalize your television experience with an add-on that delivers your favorite programs, movies, sports, and lifestyle shows. GVTC offers hundreds of the latest movies and popular shows on multiple devices. With GVTC, you can experience a more enjoyable way to stream. See below for a list of the incredible new shows and movies premiering this spring!

Starz

Shining Vale- After an affair nearly ruins their marriage, Pat and Terry Phelps move their family from the city to an old mansion in Connecticut. But Pat senses something's wrong, and she's either possessed or depressed; the symptoms are the same.

Outlander: Season 6- The sixth season of "Outlander" sees a continuation of Claire and Jamie's fight to protect those they love as they navigate the trials and tribulations of life in colonial America.

HBO Max

Julia (Premieres March 31)
This series tells the story of Julia Child's rise to fame and the launch of her cooking show The French Chef. British actress Sarah Lancashire will play the culinary icon.

Tokyo Vice (Premieres April 7)
This new series is an adaptation of Jake Adelstein's book about reporting Crime in Japan. In the show, a Western journalist working for a publication in Tokyo takes on one of the city's most powerful crime bosses.
Showtime

The First Lady (Premieres April 17)
A revelatory reframing of American leadership through the lens of the First Ladies, delving deep into their personal and political lives. Starring Viola Davis as Michelle Obama, Michelle Pfeiffer as Betty Ford, and Gillian Anderson as Eleanor Roosevelt.

The Man Who Fell To Earth (Premieres April 24)
Based on the Walter Tevis novel of the same name and the iconic film that starred David Bowie, THE MAN WHO FELL TO EARTH will follow a new alien character (Ejiofor) who arrives on Earth at a turning point in human evolution and must confront his own past to determine our future.

From the live events that keep you informed to the shows, sports, and movies you love, GVTC has the right TV package that is perfect for your home entertainment. Visit https://gvtc.com/residential/tv to find the one best for you and your family!
---