Introducing GVTC TV™: Get Ready for a Streaming Revolution!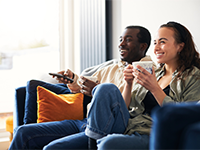 As the demand for streaming services continues to surge, the era of relying solely on cable TV for your entertainment needs is evolving. Prepare for the arrival of GVTC TV™ , poised to redefine the entertainment landscape with its range of features and adaptability that sets it apart from conventional cable TV services.
Unmatched High-Quality Streaming Awaits:
GVTC TV™ is on the horizon, promising high-definition streaming for your beloved channels, whether you're stationed at home or on the move. Through the GVTC TV™ app, you'll be able to access your favored content across an extensive array of devices—ranging from set-top boxes to media players, even extending to mobile devices. Keep an eye out for the GVTC TV™ app, available on both the iOS App Store and Android's Google Play Store.
To embark on your GVTC TV™ journey, a reliable Ethernet or Wi-Fi connection is essential. Whether using a GVTC-provided Amigo set-top box or your own device, you'll have the liberty to watch on the following supported platforms:
Apple TV
Roku
Amazon Fire TV
Android or iOS mobile phones and tablets
Rediscover TV with Restart TV and Replay TV:
An outstanding feature of GVTC TV™ is the introduction of Restart TV, allowing you to dive into a program right from the very beginning, even if you tune in late. Bid farewell to missed moments from your favorite shows, as you can commence your viewing at your convenience. In addition, GVTC TV™ presents Replay TV, permitting you to rewind up to 72 hours and relish anything you may have missed or simply wish to enjoy again. With this level of flexibility, the power of your viewing experience is firmly in your grasp.
Cloud DVR for Tailored Viewing Pleasure:
GVTC TV™ transforms the act of recording shows and movies through its innovative Cloud DVR feature. Now, you can record your preferred content and have it securely stored in the cloud, granting you unfettered access to your recordings no matter where you are. A generous 50-hour storage capacity provides ample room for your cherished shows, and if more space is desired, upgrading is always an option. The days of fretting over missed episodes or scheduling clashes are now over!
Access the App Store and Customize Your Guide:
In a true testament to its cutting-edge nature, GVTC TV™ brings you the ability to access the app store directly from your TV screen. This unique feature empowers you to choose and store your favorite apps, right within the GVTC TV™ guide. Seamlessly integrate your preferred streaming platforms, making GVTC TV™ your personalized entertainment hub.
Elevated Accessibility and User-Centric Design:
Compared to conventional cable TV offerings, GVTC TV™ redefines the user experience with heightened accessibility and enhanced features. With the GVTC TV™ set-top box, a world of content opens up, complete with the convenience of voice-controlled access through your remote and effortless search capabilities. Whether you're a casual viewer or a tech aficionado, GVTC TV™ caters to your specific preferences, delivering an unparalleled streaming experience.
GVTC TV™: Pioneering a New Wave of Entertainment:
GVTC TV™ has ushered in a new era of television consumption, seamlessly weaving together high-definition streaming, on-demand content, and user-friendly features that were once elusive in the realm of cable TV. With its versatility, accessibility, and superior user experience, GVTC TV™ has swiftly emerged as the go-to option for avid entertainment enthusiasts. Whether it's streaming your treasured channels, commencing shows from their inception, catching up on missed episodes, or recording your content in the cloud, GVTC TV™ is your gateway to the next level of entertainment. Prepare to embrace this fresh era of entertainment and elevate your viewing escapades! Stay tuned for the upcoming launch of GVTC TV™.
---