Across GVTC's service area, our team members continue to connect and support local communities - providing essential communications services that keep us safe and whole during these times. It's work that requires all hands on deck - or telephone poles? Either way, we've never been prouder and more grateful for #TeamGVTC. Nominated by peers, we're introducing a few star-studded contributors making a difference. Meet some of the team keeping you connected.
Kudos all around.

Meet Loi, I&R Field Technician
Truly, all of our technicians deserve the highest respect and appreciation right now as they sacrifice their lives daily to maintain essential services in the field. One frontliner, though, going above and beyond is Loi. Installing telephone, Internet, and Cable TV services throughout GVTC's service area, Loi is one of our hardest workers, always willing to step up and help a teammate in need or keep morale up during difficult times. He's diligent with each installation he performs and is known for his thoroughness when getting the job done. We're lucky he's chosen to be a part of #TeamGVTC.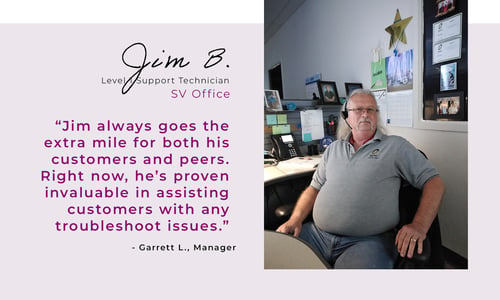 Meet Jim, Level 1 Support Technician
As a Level 1 Support Technician, Jim is a customer's first point of contact when experiencing a service-related issue with their GVTC provided services. He's adept at all means of communicating with customers including telephone chats, email, and online ticketing. Just like that gold star we peep in the background, Jim's top-notch customer service during this time is noticed and greatly appreciated by customers and peers alike. Thanks, Jim, for being a part of #TeamGVTC.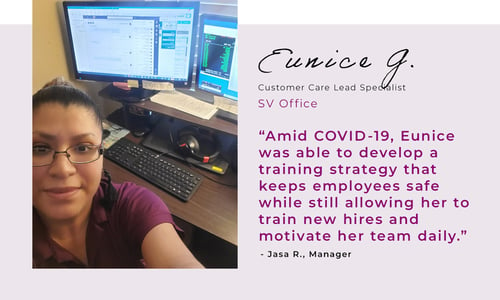 Meet Eunice, Customer Care Lead Specialist
Eunice, aka "Jane-of-all-trades" for short, takes any challenge that comes her way. As a Lead Specialist, she acts as a level 1 support for call center agents, collaborating on department goals, training new hires, and managing escalations from all customer-facing touchpoints. We call her a Jane-of-all-trades because she's able to simultaneously take on new challenges while providing consistent support for her team. We're a smooth sailing ship in large part thanks to Eunice.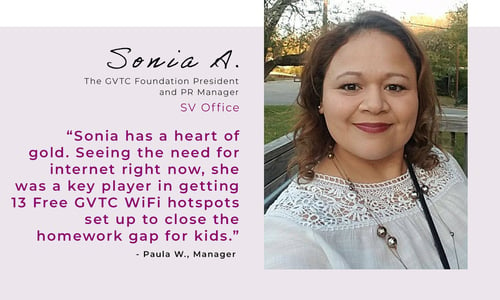 Meet Sonia, PR Manager & The GVTC Foundation President
Recently stepping up to the roles of Public Relations Manager and The GVTC Foundation President, Sonia is a true leader in supporting our community - especially now. She's dedicated more than two decades to serving our community. As the face of GVTC and its philanthropic arm, she works with local nonprofits and businesses throughout GVTC's service area to develop and implement efforts that enhance our service area. Sonia is one of the most genuine, caring, and determined leaders we have on #TeamGVTC.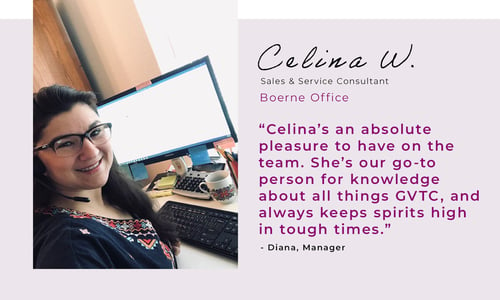 Meet Celina, Sales & Service Consultant
She focuses on providing customer solutions for our products, nurturing relationships with new and existing customers to help meet their needs. Some say she's their "confidant" and "go-to source of knowledge," having worked at GVTC for nearly 13 years and able to solve a problem like the back of her hand. She's creative, spunky, and all things sweet. She's a customer-facing superwoman.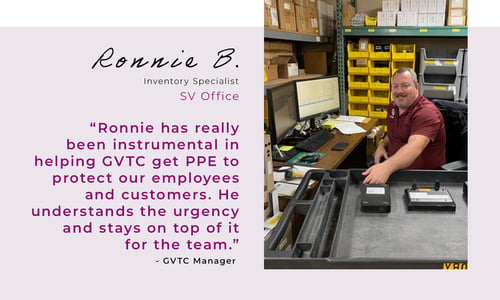 Meet Ronnie, Inventory Specialist
Let's face facts - we can't conduct business without proper safety equipment, especially during these times. And thanks to teammates like Ronnie here, #TeamGVTC is in the best of hands. Ronnie assesses and procures essential Personal Protective Equipment (PPE) for our staff to keep them and our customers safe and up to code. He's on top of things like white on rice...err BBQ on steak? Eggs on toast? Whatever the means, he's been a true superstar now and always.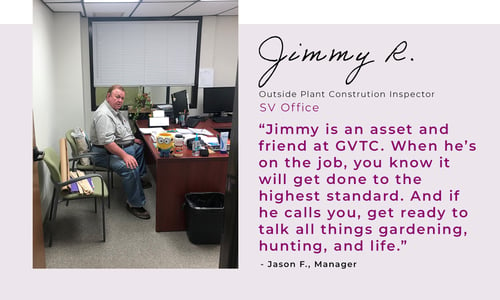 Meet Jimmy, Outside Plant Construction Inspector
Our longest-tenured employee, Jimmy has diligently served at GVTC for almost 44 years! He's seen it all - our transformation from a telephone cooperative to a full-service communications provider. The construction of our office locations. Our growth in and for the communities we serve. In high gear, he ensures that construction - including maintenance and repairs - of all telecommunications plant components are in order, and yes, he's a pro at it. He's known for his morning coffee meetings in the break room and having a heart of gold. We're lucky to have Jimmy on #TeamGVTC.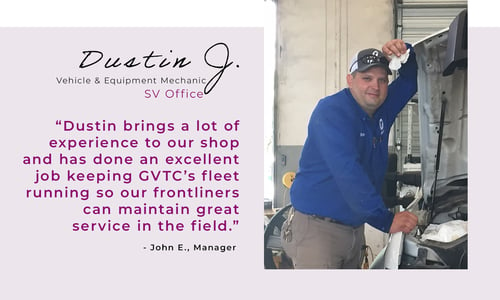 Meet Dustin, Vehicle & Equipment Mechanic
I think this goes without saying, but what good is gas without a car without a driver without a mission? Our smooth ship can't sail - let alone undock to start - without experts who know how to man the deck. Ok, that's a lot of sea jargon for us techies, but we're getting somewhere with this. Thanks to teammates like Dustin, who has nearly 20 years of experience as a mechanic, we're prepared for just about anything. He's our go-to-guy anytime there's a speedbump (pun intended) and has stepped up during this time to make sure our sails are full and our field technicians are supported daily. The success of #TeamGVTC is in large part thanks to Dustin.
We're Here for You
We could go on and on, really. Call it friendly bias, but we are truly honored to call these individuals - and all 225 employees - teammates of #TeamGVTC. It's more apparent now than ever before just how crucial our services are in keeping our communities connected.
Whether connecting with loved ones, conducting business, or passing time with therapeutic Netflix binges, we're here for it all. Thank you for trusting us with this responsibility. You're in excellent hands.