New GoGVTC App ™ and Online Account Portal!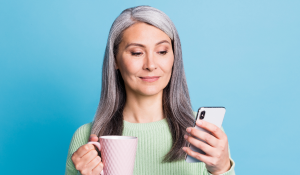 Out with the old, and in with the new! GVTC is making improvements to its online account management system. The new GoGVTC™ app and account portal will be launched soon. As part of the transition, we will be retiring the GVTC Start app and upgrading to the GoGVTC™ app. With this improved app, you can manage your GVTC account from anywhere, allowing you to be on the go and in control.
Both platforms are part of GVTC's new account management system. The web version and mobile app allow you to securely access your account information, view bills and payment history, make payments, and report outages.
The online account portal has additional functionality that allows you to manage notifications, update stored payment methods, and change personal information.
The free, secure mobile app will be available to download and install on mobile devices and tablets soon. Please note, the GoGVTC™ app will be replacing the GVTC Start app.
The GoGVTC™ app has many features and benefits that make managing your account as easy as possible. Whether on your smartphone, tablet, or laptop, you'll be able to contact customer service, keep up with the latest news or pay your bill.
Making payments through GoGVTC™ is quick and easy. The first time you make a payment, you'll have the option to securely store your payment information for future transactions. The next time you pay your bill, it will only take a couple of clicks to set up autopay. The GoGVTC™ app also allows you to see your current bill, along with bills from the previous month or even past years.
The GoGVTC™ app lets you set up alerts and notices that are important to you, giving you a personalized experience. You'll be able to select how you want to be notified about your bills, including email and text messaging. The app also lets you contact customer service anytime for requests, concerns, or any questions you may have.
The new GoGVTC™ app will be released soon! Get ready for an app experience like no other!
Keep up to date with all the upcoming changes, as well as video tutorials and step-by-step guides at gvtc.com/manage.
---