Teen Volunteering: How to Actually Engage Young People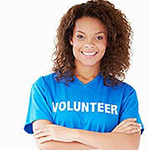 Teens are an incredible force for change, offering huge enthusiasm, energy, and freshness nonprofits could leverage to make a difference in the world.
Surprisingly, volunteerism is becoming a familiar concept for young people.
Data shows that 55% of young people in the US between ages 12 and 19 volunteers each year—close to double the rate of adult volunteers. These teens dedicate over 1.3 billion hours yearly to charity work.
Sadly, several nonprofits still struggle to engage teens successfully, but you could get them involved in these nine ways.
Let's dive into it.
Explore Proactive Recruitment Campaigns
Attracting teen volunteers is incredibly competitive with many nonprofits interested in young people, but you could turn things around with fun and creative recruitment campaigns.
Most kids probably don't know you exist unless you have been around for a long time and with broad reach. So, be clear you are open to teen volunteers, get on their radar and speak in the language they understand.
Of course, you could connect with them in several ways, but these five might inspire your strategies.
Hand out leaflets on the street to create awareness and sensation.
Use funny headlines and role descriptions to pique their curiosity and include as many details as possible without being overwhelming.
Reach out to them on all the social media platforms they hang out on.
List opportunities on local volunteer matching websites like

Loudoun Cares

.
Visit schools and share information about your mission with the kids, emphasizing how volunteering allows them to make a difference in the community.
Make Them Feel Welcome
It's not everyone that can commit to a cause even when there's nothing in for them. So appreciate the sacrifice by at least making your volunteers feel welcomed, treating them as guests.
Let them meet your staff and other volunteers. This way, they could experience your organization's warmth, friendliness, and drive. It creates a sense of belonging and also shows volunteers that you're happy to have them.
Also, provide them excellent induction to set clear expectations and immerse them in the organizational culture.
WildApricot, a membership software provider for nonprofits, believes a good volunteer onboarding process inspires deeper participation and commitment, creates meaningful relationships among volunteers, and drives a high retention rate.
Meet Their Expectations
Most teens are willing to roll up their sleeves to commit to your meaningful causes.
But they have their expectations and meeting them remains the most straightforward way to engage and retain them.
A JoinInUK.org's study pretty much summed up these expectations with the word GIVERS.
G: Young people want to experience personal growth and well-being.
I: Teen volunteers want an increased sense of purpose. They expect to know how they are making a difference.
V: Regular communication motivates volunteers. So volunteers expect you to speak to them regularly and in the voice they understand.
E: They expect you to make the program easy to sign up for and doable in a reasonable amount of time. Teens aren't happy doing jobs your staff doesn't want to do.
R: Teen volunteers want recognition. They want to feel appreciated and thanked.
S: Young people expect volunteering to offer them social opportunities. They want to work on a team, meet new people and make friends.
Use FOMO to Your Advantage
Several studies have shown that people often make reactive decisions due to the fear of missing out (FOMO). It's the feeling that others are having more fun, experiencing better things than you are, or you're missing out on something big.
It creates a sense of helplessness, and you could use this feeling to your advantage.
Share your success stories on all channels, mainly social media, to generate excitement and encourage volunteers to share their experiences.
Young people are more likely to volunteer if their friends are volunteering. So, make it straightforward for volunteers to invite their friends, streamlining the sign-up process.
Incentivize Volunteering
Besides the fulfillment teens gain from committing to inspiring causes, offering them additional incentives could help them stay motivated and do their job more efficiently.
Of course, incentivizing volunteering doesn't have to cost an arm. So you could explore any of these low-cost options to drive volunteer engagement.
Always phone to thank them for their involvements
Run monthly awards to appreciate exceptional contributions
Write their schools appreciation letters
Offer them tickets to high-value events
Conduct free skills development sessions
Put them in leadership positions and guide them to perform the functions
Produce a video of their work and share it on social media
Bring food to events to appreciate their efforts
Promote teamwork with group awards
Reach Out to Their Parents
Parents and guardians play considerable roles in their kids' volunteering journey. So reaching out to them could be an intelligent way to engage their kids.
But it might perhaps be easier with volunteering parents. A study found that teens from at least one volunteering parent are about twice more likely to volunteer than those with non-volunteering family members.
However, regardless of their volunteering status, the key to getting the parents on your side is demonstrating how the child's involvement in the cause impacts the community and their lives.
Of course, humans love being helpful, and many parents will not deny their children the opportunity to make a difference in the life of others.
Introduce Variety
Volunteering doesn't have to be a chore, so spiff it up to make it fun.
Find activities that resonate with the kids and play around with several options to keep things exciting and unpredictable. Also, you could involve them in deciding the activities or planning them, offering them all the resources they need to succeed.
Additionally, find ways to engage them beyond volunteering.
You could explore options like taking them on field trips to expose them to social issues, hanging out with them for bonding exercises, or running learning programs to support their education beyond the classroom.
Focus on Their Strengths
Another way to engage teen volunteers is by maximizing their strength.
Create roles within the organization based on their natural strength to motivate them, fully commit them to the cause and keep the organization running—a win-win for both parties.
Simple roles in communication, social media management, fundraising, planning and mobilization, or other areas they could excel within the organization could be all you need to unleash the real them.
Ask them if you're not sure the roles they might fit into, or use a volunteer satisfaction survey to capture all the information you need.
Help Them Win Scholarships
Several scholarships support teen volunteers' educational pursuits.
For instance, the GVTC Foundation awards three scholarships to deserving students from households subscribing to at least one GVTC service pursuing a college education.
GVTC's Ola Armstrong Scholarship awards $15,000 to students demonstrating community involvement by volunteering in their local community to support their college education.
Besides this scholarship, several other options are available. You could encourage the teens to seek them out, and of course, support them with resources to succeed.
Start Engaging Young People
Young people enjoy investing their time in things that make real change.
However, nonprofits seeking to harness their enthusiasm and energy need to understand their needs and expectations. For instance, they would want to know how their involvement makes a difference; they would also like to make friends and have fun.
So, apart from offering $15,000 in scholarship money and grants to nonprofits, the GVTC Foundation empowers young people with volunteering opportunities. Volunteers have the opportunity to do the most good for their communities without missing out on the fun side of things.
---