The Best Kindle Unlimited Books for Your Thanksgiving Road Trip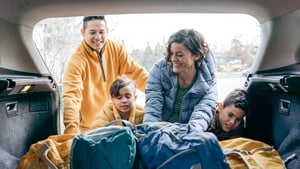 Are you gearing up for a Thanksgiving road trip and wondering which books to bring along? With a Kindle Unlimited subscription, you have access to a vast library of books. To help you navigate through the options, we've curated a list of the best books available on Kindle Unlimited in 2023. From romance to mystery, science fiction to historical fiction, there's something for everyone to enjoy on your holiday journey.
Romance
The Vibrant Years by Sonali Dev
Three generations of women brought together with a dating app? That is the premise of The Vibrant Years. This novel follows three generations of Desai women - Bindu Desai, her daughter-in-law Aly, and her granddaughter Cullie. Each woman has her own story to tell and troubles to overcome, but they are all brought together by Cullie, who needs their help developing a new dating app.
Digging Up Love (Taste of Love) by Chandra Blumberg
Food and romance, could it get any better? Digging Up Love follows Alisha Blake, an ambitious baker helping out in her grandfather's restaurant. A dinosaur fossil found in her backyard brings the handsome paleontologist Quentin Harris to town, where the two instantly start to fall for each other. But for any avid romance reader, you know it's not going to be that simple.
Things We Never Got Over by Lucy Score
Things We Never Got Over starts off with a runaway bride, Naomi, fleeing her wedding to rescue her twin sister Tina. The chaos continues when Tina leaves town with Naomi's car (and cash), leaving Naomi to care for her niece she never even knew existed.
Forever Right Now by Emma Scott
So many romance novels follow single women or single moms, but Forever Right Now tells the story of a single dad, Sawyer. Sawyer is raising his daughter Olivia while also finishing up law school. He falls for a young dancer and recovering drug addict, Darlene. As if that wasn't enough tension for a novel, things get even more complicated when Olivia's grandparents show up and decide they should have custody of the young child.
Mystery, Thriller & Suspense
Ninth House by Leigh Bardugo
Taking place at Yale, Ninth House follows a freshman Alex Stern who has been admitted to the school thanks to her ability to see ghosts. Recruited by one of Yale's secret societies, Ninth House, Alex must help them with their mission to regulate the other houses' occult activities. But Alex's partner goes missing after one of their spells goes wrong, and now Alex must figure out what is really going on.
Rock Paper Scissors by Alice Feeney
Rock Paper Scissors tells the story of an unhappy couple, Adam and Amelia Wright, on a weekend getaway as they near yet another anniversary. Adam is a workaholic screenwriter with face blindness, making him unable to even recognize his wife, family, or friends. Every anniversary he and his wife exchange traditional gifts. And every year, Adam's wife writes him a letter she never lets him read.
The Last House on Needless Street by Catriona Ward
One of the most popular horror novels of 2021. If you haven't already, you need to check out The Last House on Needless Street! The Last House on Needless Street tells the story of a serial killer and a missing child, narrated by Ted, who lives in a strange house on Needless Street. A potentially unreliable narrator, readers will quickly figure out that things may not be as they seem.
Science Fiction
The Long Way to a Small, Angry Planet by Becky Chambers
The Long Way to a Small, Angry Planet follows Rosemary Harper and her ragtag crew as they travel across the galaxy on their ship, the Wayfarer. Things really take off when the crew is offered a job tunneling wormholes through space. The job is dangerous, pays well, and will lead the crew on an adventure of a lifetime!
All Systems Red by Martha Wells
The first book of the Murderbot Diaries, All Systems Red, follows the sarcastic and hilarious SecUnit, who calls herself Murderbot. Murderbot is given to a team of scientists working on a distant planet, but what the scientists don't know is that their SecUnit has hacked their own system and given itself free will. Worst of all, she's not a fan of humans.
Before the Coffee Gets Cold by Toshikazu Kawaguchi
Originally published in Japanese, Before the Coffee Gets Cold takes place in a cafe where visitors can travel back in time to visit their loved ones. The catch? Your coffee needs to stay warm.
Historical Fiction
The Murmur of Bees by Sofía Segovia
Originally published in Spanish, The Murmur of Bees mixes the genres of historical fiction and fantasy. The novel follows a boy named Simonopio, who was born with a cleft palate and found as a baby covered in a blanket of bees. Adopted by a couple, Francisco and Beatriz Morales, the new parents soon realize Simonopio can see the future and is always protected by a swarm of bees. The boy will have to use these powers to help keep his new family safe.
The Keeper of Happy Endings by Barbara Davis
The Keeper of Happy Endings tells the story of two women. Soline was a Parisian bridal dressmaker who volunteered at a hospital during WWII. While volunteering, she meets the love of her life, Anson, an American soldier. But unfortunately, war tears them apart. We meet Rory 40 years later as a young woman with a life parallel to Soline. Rory rents Soline's old bridal shop, where she finds a box of old letters from the brides Soline dressed over the years, but this is just the start of their connection.
Biographies, Memoirs, and Other Non-Fiction
I'll Be Gone in the Dark: One Woman's Obsessive Search for the Golden State Killer by Michelle McNamara
I'll Be Gone in the Dark is a true crime novel all about the Golden State Killer. McNamara tragically died before the book was complete after an accidental overdose. However, McNamara's widow, Patton Oswalt, crime writer Paul Haynes, and investigative journalist Bill Jensen worked together to complete the book, which was about two-thirds of the way done at the time of her death. McNamara wrote I'll Be Gone in the Dark by reviewing police reports, interviewing victims of the Golden State Killer, and becoming a part of online communities just as obsessed with the case as she was.
Sapiens: A Brief History of Humankind by Yuval Noah Harari
Did you know we aren't the only human species that existed on Earth? In Sapiens, Harari gives a detailed account of human history. He presents facts (and myths) about how mankind became the dominant force on the planet. He explores how humans have shaped the planet and what our impact may be on the future of this planet.
Self-Help
Joy at Work: Organizing Your Professional Life by Marie Kondo
First, she taught you the joy of cleaning. Now Marie Kondo is here to help you cut clutter and wasteful tasks from your job, making space for more meaning and, of course, more joy. By teaching you how to tidy up every aspect of your work life, Kondo hopes to help you make your work easier and more enjoyable.
How to Do the Work: Recognize Your Patterns, Heal from Your Past, and Create Your Self
by Nicole LePera
How to Do the Work is a manifesto for self-healing and a guide to creating a more vibrant, authentic, and joyful life. Using the latest research from a wide array of scientific fields and different healing modalities to back her up, Dr. Le Pera helps readers recognize how troubles and childhood trauma are carried with us into adulthood and impact our lives. She offers readers the support and tools they need to break free from destructive behaviors and reclaim and recreate their lives.
With this curated list of the best Kindle Unlimited books in 2023, your Thanksgiving road trip is sure to be filled with captivating stories and valuable insights. Whether you're into romance, mystery, science fiction, or self-improvement, there's something here for every reader. Enjoy your journey and happy reading!
---