Unwrap the Ultimate Entertainment Experience with GVTC Communications' Black Friday Deal!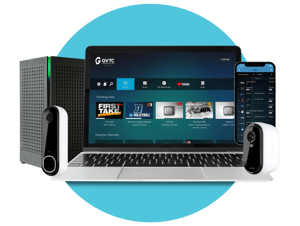 The holiday season is upon us, and what better way to kick it off than with GVTC Communications' incredible Black Friday deal! From November 21 to November 27, new and existing customers have the chance to enjoy a spectacular offer that includes 1 gig for the price of 500 Mbps, a $60 credit for your first month, and complimentary installation. This offer applies to both new and existing customers who add GVTC TV to their existing 500mbps/1 gig double and triple play packages. If you're in search of a top-notch entertainment experience, look no further!
Benefits of GVTC TV
GVTC TV isn't your run-of-the-mill television service; it's a gateway to a world of entertainment possibilities. Here are some of the standout benefits:
Immersive HD Quality: Experience your favorite shows, movies, and sports events in stunning high-definition, providing clarity and vividness like never before.


Extensive Channel Lineup: With an expansive channel selection, GVTC TV ensures there's something for everyone in the family. From news and sports to movies and lifestyle channels, you'll never run out of options.


Advanced Features: Take control of your TV experience with features like DVR, pause and rewind live TV, and an intuitive program guide. No more missing out on your favorite moments!


Streaming Capabilities: You can watch across a wide range of devices, from set-top boxes to media players to mobile devices. You can also access content when and where you want through the GVTC TV app or other third-party affiliate apps. With the GVTC TV app, you can stream, record, rewind, and replay your favorite shows from multiple devices without having to be in front of an actual TV.


Parental Controls: Ensure a safe and family-friendly viewing experience with robust parental controls that allow you to monitor and restrict content access.


Local Channels: Stay connected with your community by accessing local news, events, and programming tailored to your region.
Why You Shouldn't Pass Up This Deal
Upgrade Your Entertainment Experience: Elevate your downtime with high-quality, diverse content that caters to all tastes and preferences. GVTC TV transforms your living room into a private cinema.
Savings on Premium Entertainment: By taking advantage of this deal, you're not only enjoying freebies but also unlocking substantial long-term savings on your entertainment bill.
Limited-Time Offer: Don't miss out on this exclusive Black Friday deal! The offer is valid only from November 21 to November 27, so act fast to secure this fantastic opportunity.
GVTC Communications' Black Friday deal is a game-changer for anyone looking to enhance their home entertainment experience. With a $60 credit, 1 gig for the price of 500 Mbps, and complimentary installation, there's never been a better time to dive into the world of GVTC TV. Take advantage of this limited-time offer and unwrap a world of entertainment possibilities. Don't wait—seize this opportunity and make your holiday season one to remember!
---