Your 2022 Black Friday Holiday Shopping Survival Guide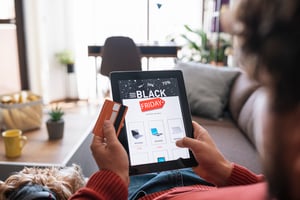 It is officially November, and you know what that means, right? The holiday season has begun, and it's time to get ready for all your holiday shopping! That also means it's time to start preparing for the biggest shopping day of the year, Black Friday.
How to prepare for Black Friday?
Black Friday may be the biggest shopping day of the year, but with that comes long lines, crowded stores, and many sleep-deprived customers. It can be an overwhelming experience but don't worry, we're here to help. While we can't make the lines shorter or those around you a little more pleasant, we can give you some tips to help you get the most out of your Black Friday holiday shopping experience.
Make a shopping list: Your shopping list is the foundation of your Black Friday game plan. The first thing you'll want to do is make a list of everyone you're planning to shop for and the items you want to get for them (and yourself). Your shopping list will help you avoid overshopping for someone or, worse of all, forgetting someone altogether.


Set a budget: Avoid overspending by deciding how much you can afford to spend. You can think about this as both an overall spending budget and a per-person budget. Once you've made your shopping list (step one), take some time to decide how much you are willing to spend per person, and how much you are willing to spend overall. Once you've set your budget, stick to it, and don't let those tempting doorbusters break the bank for you.


Plan ahead: Don't just head out on Black Friday blindly. Take the time to study the Black Friday ads. Figure out which stores are offering the best deals on the items you have on your shopping list and prioritize those stores first. Stores often have limited inventory on their biggest sale items, so you'll want to plan to tackle your big purchases first.


Shop online: Gone are the days of having to wait for Cyber Monday for the best online deals. Black Friday has gone digital as well. Over the years more and more stores have begun to offer similar sales, if not the same, both online and in stores. So be sure to check out what your favorite stores are offering online. And while you're checking out your favorite retailers online, look into their curbside pickup options. Avoid crowded stores and long lines by making your purchases online and picking up same-day curbside.


Loyalty programs: Be sure to look into your favorite stores' loyalty programs. While Black Friday is already known for great deals, many loyalty programs may provide you with additional ways to save such as extra discounts, cash back or points, and/or free shipping.


Start early: While early Black Friday deals are nothing new, many stores are starting earlier than ever in 2022. No need to wait until November 25th, many stores have already begun their Black Friday sales, allowing you to get a jumpstart on your holiday shopping. And as previously mentioned, many sale items have limited inventory, so the earlier you can get your hands on popular sale items, the better.
Ready to get shopping? Keep reading to find out who has the best early Black Friday sales happening right now!
Who has the best Black Friday sales right now?
While many stores have offered early holiday sales for years now, this year more stores than ever are starting earlier than ever! Some stores are going as far as offering Black Friday sales throughout the month of November. And to make early shopping even more enticing, many retailers are offering holiday price matching throughout the holiday season and extending their return policies (be sure to check with specific retailers for details).
So where can you find these amazing early Black Friday sales? Whether you're looking for a new television, ready to upgrade that outdated laptop, looking to get your hands on a hot new gaming system, or something else completely, here are our recommendations on where you can find the best early Black Friday deals!
Best Buy
A reliable go-to for televisions, laptops, and game consoles, Best Buy began its Black Friday sale back in October. Offering their usual great deals on everything from PCs to Playstations, Black Friday items are limited, and Best Buy is encouraging customers to shop early for their best chances at securing those great deals!
Target
Offering new deals weekly, you'll want to keep your eye on Target. 50% off televisions, 40% off laptops, and 35% off Logitech gaming accessories - those are just a sample of the sales you might find. Target will continue to drop new weekly early Black Friday deals throughout the month of November.
Walmart
Walmart released its early Black Friday deals at the start of the month. And if that wasn't enough, their official Black Friday Sale kicks off online on November 7th and in stores on November 9th! Whether you're looking for Apple products or a new television, Walmart has you covered.
Lenovo
In need of a new laptop? Now through December 5th, Lenovo is offering different Black Friday and Cyber Monday Sales. Right now, online doorbusters are available for up to 70% off! And for those interested in upcoming sales, their Holiday 2022 eCatalog lists all of their upcoming holiday sales and sneak peeks at what is and will be available.
Samsung
Want to save big money on a new television? Or maybe you're looking to upgrade to a new smartwatch. Whatever electronic/gadget you're looking for, you'll want to check out Samsung's early Black Friday deals for big savings.
Prepare for the holidays with GVTC
Picking up a new television for the family? Whether your family is full of movie buffs, or sports fanatics, or you're just looking for the basics, be sure to check out our television packages to find the right one for you and your family! And if you're planning on buying a new laptop, a gaming console, some smart home devices, or anything else that requires a reliable internet connection, be sure to upgrade to one of the fastest, most reliable internet options around.
Last but not least, while you're preparing your shopping list this year, don't forget to add GVTC to your list. Be sure to check out our upcoming Black Friday deal when we'll be launching a new security product that you won't want to miss out on!
---