12 Fun Outdoor GPS Games to Play this Fall!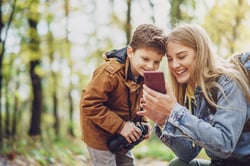 Virtual reality has changed the landscape of gaming forever. VR games allow players to fully immerse themselves in a virtual game world, but what about the opposite? What about taking your game out into the real world?
With GPS-enabled games, players can now take their game play out in the real world! GPS-enabled games are a great way to make gaming more interactive and take gaming on the road.
Pokémon GO
Rating: E for Everyone
Genre: Strategy
Released over six years ago, Pokemon Go is still one of the best location-based games available! Perfect for hardcore fans who grew up with the brand and newcomers alike, Pokemon Go lets trainers (players) live out their dreams and go out into the real world to catch their favorite Pokemon. With big events and constant new releases, the game is always changing.
Ingress Prime
Rating: E for Everyone
Genre: Role-Playing (RPG) & Strategy
Released in 2012 by the same developer that would later bring you Pokemon Go, Ingress is one of the biggest location-based games ever released! The game is based on a sci-fi scenario where newly discovered exotic Matter (XM) has divided society on how the matter should be used for humanity. Do you want to save humanity or evolve it? Players are agents that are divided into competing factions that are in competition for control over "portals" that correspond to real-world points of interest. If agents are able to take control of three triangulating portals, their faction will earn points and control the area for as long as they can hold it.
A fun bonus with this game, Ingress will try to send players to places of cultural significance, making it a great way to learn more about your own neighborhood.
Pikmin Bloom
Rating: E for Everyone
Genre: Adventure
Yet another hit for the creators of Pokemon Go, Pikmin Bloom, is an augmented reality (AR) experience for players. A great game to help you relax and get those steps in, players must walk around their neighborhood (or anywhere else) in order to grow their own Pikmin. Pikmin are adorable quirky creatures that hatch out of seedlings you can collect as you walk. After a few weeks of play, you'll have an entire army of Pikmin to join you on your afternoon or morning walks.
GPS Monster Scouter
Rating: E for Everyone
Genre: Strategy
Build a team of the world's best monsters in GPS Monster Scouter. As you travel around, you can recruit new monsters, train your team of monsters, and battle other teams to win prizes. Players can add more variety to the game by building their own monsters and downloading monster packs from other players.
Magic Streets
Rating: E10+ for Everyone 10 and up
Genre: Role-Playing (RPG)
Become a knight, mage, or archer in Magic Streets. A true GPS-based game, the only way to move throughout the game is to physically move yourself. As you travel around, you can find new bosses, dungeons, and more to explore! As you advance through the game, you can upgrade and customize your equipment, build a town, and develop your skills.
Jurassic World Alive
Rating: T for Teen
Genre: Adventure
If you love dinosaurs and have always dreamed of visiting Jurassic Park, this is the game for you! As you walk through the world (literally), you will encounter iconic dinos that you can level up, breed, and battle. The main goal of the game is to find new creatures and collect their DNA.
Orna: A Geo-RPG
Rating: T for Teen
Genre: Strategy & Role-Playing (RPG)
Orna is bringing classic turn-based RPGs to your phone and transforming the world around you! Filled with common RPG tropes like turn-based combat, party building, and class specializations, Orna lets players explore dungeons, tackle bosses, and collect items as they explore the real world.
Resources
Rating: T for Teen
Genre: Massively Multiplayer (MMO)
Want to try out being a prospector tycoon? Resources is a game that focuses on economics and limited supplies. In the game, it is your job to scan the area around you for valuable resources and then build an infrastructure around those resources so you can claim them. You may even have to hire guards or upgrade your gear to keep your resources safe.
The Walking Dead: Our World
Rating: 17+
Genre: Adventure
Yet another way to join the ever-popular world of The Walking Dead. The Walking Dead: Our World puts players in a post-apocalyptic world where they must outsmart zombies, save people, and fend for themselves in a society with limited and constantly dwindling resources. Although you don't need to be a fan of the show to enjoy the game, many of the show's most popular characters can be collected throughout the game.
Zombies, Run!
Rating: T for Teen
Genre: Fitness & Strategy
Need some extra motivation to run (literally). How about a horde of zombies to get you moving? Zombies, Run! is an exercise game that gives players (runners) missions and rewards as a motivation to keep moving. Runners can track virtual zombies on their smartphones and must keep moving to outrun the horde on their heels.
Wokamon
Rating: E for Everyone
Genre: Fitness
Another great way to stay active, Wokamon helps you to create a consistent walking routine by giving you an adorable creature to care for that can only be nurtured by your walks. This works for both outdoor and treadmill walks, and the app will even track your distance.
Run An Empire
Rating: E for Everyone
Genre: Fitness & Strategy
If zombies aren't your thing and you aren't a fan of cute creatures, here is yet another way to stay active! You can build and run your own virtual empire in Run an Empire just by running. Players can claim territory by physically running or walking around the real world. The more territory the player can claim, the more resources they will have to help them build their empire.
Planning on trying out some of these games around the house? Click here to learn more about GVTC's internet packages. GVTC has the fastest, most reliable internet around to help make sure you avoid any unnecessary game lag, even in the corners of your yard.
---