Get Summer Ready with Fitness Gaming
Summer's on its way and whether your summer plans involve lots of time by the pool, beach or lake, hiking and camping, or simply hanging out at backyard BBQs, you may be thinking about turning up your workout routine before it's time to break out the shorts and swimsuits.
No need to purchase a gym membership or dust off those old weights, this summer bring your exercise routine into the 21st century with fitness gaming. Whether you like to dance, box, cycle, play golf, or live out your zombie apocalypse dreams, there is a fitness game for you!
Nintendo
When you think of fitness gaming, or exergaming, there is a good chance you think of the Nintendo Wii. Up for a round of living room golf or tennis anyone?
The pioneers of exergaming, before exergaming was even a thing, Nintendo has been trying to get its gamers up and moving since the 80s when it released the Powerpad accessory for their original NES.
Today Nintendo offers you the Switch to keep you and your heart rate up. Similar to the Wii, the Nintendo Switch Joy-Con controllers are able to track your arm movement as well as your overall movement around a room. A system that can be played on both a TV and a tabletop, through the system itself, the Nintendo Switch is highly portable and adaptable; Play in your living room, your bedroom, or on vacation in your hotel room.
The Nintendo Switch also offers a little something for everyone. With a huge and diverse collection of games, family and friends of all ages will be able to find a game that matches their interests, their goals, and their workout level.
Games to Get Your Heart Rate Up
Bonus Points for the Switch
Really take your exergaming to the next level with the Nintendo Switch Ring Fit Adventure Game and Accessories Bundle! Attach your Switch Joysticks to the Ring-Con accessory and take off on a 100 level fantasy challenge that will require you to walk, jog, paddleboard, and much more, as you advance through the levels. The game also includes a Quick Play mode that allows players to do timed exercises that can target specific muscle groups.
Oculus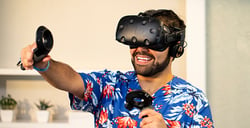 Possibly the most well-known name in VR, Meta's Oculus Quest 2 offers many different ways to get your heart pumping. Whether you want to dance, bowl, play tennis, or mountain climb, there is an Oculus game for you! For those looking for a more traditional workout, activities like boxing, HIIT workouts, and dance classes are all offered through the subscription-based service FitXR. To top it all off, Oculus Move (a free Oculus Ap) is a built-in fitness tracker that allows users to track their calories burned, their physically active minutes, as well as set exercise goals and overall progress.
Games to Consider
Playstation
While traditionally catering to sit-and-play gamers, Playstation does have some exergaming options for the PS3, PS4, and PS5 systems. Of course, since these systems are produced most commonly for traditional games, they don't come equipped to handle exergaming right out of the box and do require some additional equipment. Depending on your system you will need to buy an eye camera and a move motion controller. If you want to dabble in PlayStation's VR games, you will need to purchase the Sony PlayStation VR headset as well.
Beyond the Console
When you hear the word gaming, even when it's attached to the word fitness, traditional consoles probably come to mind - Xbox, Playstation, Nintendo. But fitness gaming has grown beyond traditional gaming consoles. What many may imagine when they think of traditional gym equipment is even entering the gaming arena with leaderboards that let you compete with "players" all around the world, virtual terrain to make it feel like you're working out, out in the real world, and challenges that push you to level up!
Peloton
Some may not think of Peloton when they think of fitness gaming, however, Peloton utilizes many aspects of the gaming world - things like leaderboards, high fives, virtual trophies, and ribbons for completing challenges. And, with the launch of their first game Lanebreak, Peloton is fully stepping into the exergaming world. Lanebreak is a rhythm based experience that requires riders to match and sustain their cadence in relation to on screen cues in order to achieve a high score. Lanebreak offers multiple levels, workout types, workout lengths, and music styles.
Capti
Peloton isn't the only gamified exercise bike on the market. Capti launched last year and runs on Unreal Engine by Epic Games to provide video game experiences and virtual adventures to its riders. The Capti can be transformed from a traditional stationary bike, with fixed handlebars and flywheel, to a bike with steering, virtual shifting, terrain-adapted resistance, and a free flywheel to better mirror the real outdoor ride experience. With Capti riders can take studio classes, virtual training rides, and explore one of three adventure games. And for those with a competitive side, Capti allows you to compare exercise results with worldwide leaderboards.
Stealth Core Trainer
No one enjoys planks, but what if planking had the power to turn your body into the controller for a video game? That is what Stealth Core Trainer has done.
Currently compatible with all smartphones on the market, the Stealth Trainer platform, which supports up to 300 pounds, allows the user to move 360 degrees, providing a more dynamic workout than a traditional plank, and when connected to the Stealth app turns the user's body into the joystick. The free app comes with four games (Speed Gliding, Space Escape, Color Chase, and Galaxy Adventure) all of which require the player to move their body to maneuver through the game. The app also includes a real-time worldwide leaderboard, can track your daily progress, and can be used to create private challenges with friends.
LiteBoxer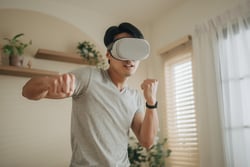 While at first glance this may appear to be a traditional piece of workout equipment, LiteBoxer uses flashing lights, music, rhythmic sequences for you to repeat, and on-screen instructions to keep you engaged and burning calories. The system comes in two versions, free-standing and wall-mounted, and features more than 200 LED lights, plus built-in sensors and technology to count, track, and measure each jab. Pick a song from their music library and punch to the beat or select a trainer-led workout that combines stretching, cardio, boxing, sparring sessions, warmups, and classes outside of the boxing genre.
App Options
You can even take fitness gaming with you on the go! If you are the type of person that wants to take their workout out into the real world, there are plenty of apps you can download on your smartphone to either add an element of fun to your regular cardio routine or be that extra push to finally get you up, out, and moving.
Ready to get exergaming? Don't let slow load times and laggy gameplay mess up your new gaming fitness routine. Make sure you have the fastest, most reliable internet with GVTC's Fiber Internet. Click here to find out if Fiber Internet is offered in your area and upgrade today!
---