How to Protect & Customize a Home | TX Security Services | GVTC
"More than a house."
That's what buzzes through most people's minds when you first start house shopping. Everyone's experience is different—and equally, so are your needs. But one resounding similarity we all share is the question of "How do I make this feel like home?"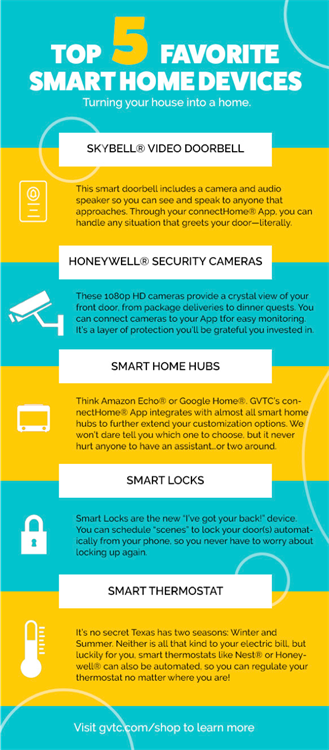 Typically, you may think of interior design, custom landscaping, or adding touches of familiarity like photos or sweet keepsakes. But what about using automated home security to feel at home? Smart home security—the new way to protect and customize your home—gives you complete control over your household, from when you set your doors to lock at night to the song you program to play when you wake up in the morning. The trick is knowing your options….

Luckily for you, GVTC is the perfect start to making your home smart.

We've partnered with Honeywell® to bring you connectHome®, the best in smart home security technology. We offer security monitoring, video doorbells, indoor and outdoor cameras, motion detectors and Lyric® controllers that all integrate with our connectHome® App to automate your home. Not sure what this has to do with making your house a home? Let's discuss.

You've heard about people turning their houses into smart homes before but maybe never received a full picture of what that means. With Smart connectHome® Security, you can control every aspect of your house from your smartphone—anywhere, anytime! Even set up "scenes" like opening your garage or turning on lights within the App that's triggered when you're a certain distance from home. Your light bulbs. Your door locks. Your thermostat. Even your coffee maker! You have the power and creative space to personalize your home to fit your family's needs. And with most industry standard Wi-Fi and Zwave smart products compatible with connectHome®, your choices are limitless.

The best part about it all? From your connectHome® starter package, you can add compatible smart devices as they fit your family needs. Everyone's needs are different, but at the end of the day we all want to feel special and safe in our homes. The sky truly is the limit on how "smart" you can get.

And we're here to test those limits.

Optimizing our Smart Home Security package to be robust and affordable, GVTC's connectHome® starter package includes either one (1) Skybell® doorbell or one (1) Honeywell® camera, one (1) motion detector, three (3) sensors, a connectHome® account that integrates your favorite smart devices to one mobile home-assistant all for just $25.95/month!

Take your family from a house to a home, with GVTC Smart connectHome® Security.