Apps That Can Save You Money at the Gas Pump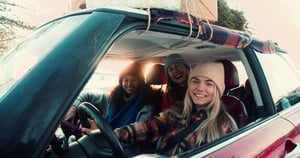 Whether preparing for a long cross-country road trip to visit family for the holidays, commuting across town to work, or simply dropping the kids off at school, saving a little money at the gas pump is always a plus. From cash-back opportunities to simply helping you find the best price in town, download one of these seven apps and start saving some money at your next fill-up. Also, did we mention that every app on this list is free to download and available on both iOS and Android devices?
1. GasBuddy
Saving driver's money since 2000, GasBuddy is one of the oldest and possibly most well-known gas apps created to help you find the cheapest gas around! In the GasBuddy app, you can enter your current zip code and find a list or map of all the gas stations nearby and their current (or most current) prices. While GasBuddy isn't always perfectly accurate, it depends on users to update the gas prices, they are usually pretty close and can help give you an idea of the best place to stop. GasBuddy will also send you alerts when gas prices around you dip or spike. By being a loyal community member you can earn additional perks like being entered into daily drawings.
GasBuddy also has a free GasBuddy card you can sign up for that links to your bank account and can be used to save you up to 25 cents per gallon.
2. Gas Guru
Owned by Yellow Pages, Gas Guru works a lot like Gasbuddy. Gas Guru will show you the price of gas at the stations in your area and you can sort by price, station distance, and fuel grade. Unlike GasBuddy, Gas Guru gets their prices from the Oil Price Information Service, not users.
If you need to run some errands or are looking for a place to grab a bite to eat while on the road, Gas Guru will also show you places near the gas station you select.
3. Waze
If you are already an avid Waze user you probably already know this, but for anyone that may only think of Waze as a navigation and traffic app, you'll be happy to learn that Waze can also show you the price of gas at nearby stations. And best of all, once you find the station you want to visit, Waze will then find you the best route.
Waze also offers contactless payment options at participating ExxonMobil and Shell stations.
And one last perk! We all know speeding can waste a lot of gas. With Waze you can set an alert to notify you whenever you start to speed, helping you drive more efficiently and save gas.
4. MapQuest
If you can remember a time before navigation systems and smartphones, you probably remember printing out directions from MapQuest any time you needed to travel somewhere new. Well, MapQuest isn't gone, even if you haven't thought about them for years, and is actually still around helping people navigate. Similar to apps like Waze, MapQuest can show you gas stations along your route as well as current prices to help you find the best choice!
MapQuest will also show you up-to-date traffic information and can help you find places to eat along your route.
5. Google Maps
If you own an Android product, you probably use Google Maps to get around, but did you know Google Maps can also show you the best place to get gas? Similar to apps like Waze and MapQuest, Google Maps will find you the best route for wherever you are going, provide you with real-time traffic updates, and help you find the prices for gas stations nearby.
6. AAA TripTik Travel Planner
When you think AAA, you most likely think of the helpful tow truck drivers that can save you when you find yourself broken down or simply out of gas on the side of the road. But AAA is also an excellent resource for trip planning, including finding the perfect gas station for your road trip.
The AAA TripTik Travel Planner app used to only be available to paying AAA members, but is now available for free to the public! The app has many great features to help you plan and execute your next road trip, including a feature that will help you see all the nearby gas stations and their current prices.
7. Upside
We've all heard of grocery rebates, but what about gas rebates? That's kind of how Upside works. Rather than helping you find the cheapest gas around, or saving you money directly at the pump, once you've filled up your tank at participating locations, simply take a picture of your receipt and upload it to the Upside app. Upside will then save you up to 25 cents per gallon. The money you earn doesn't expire and you can cash out your savings either through PayPal, a check, or a digital gift card.
Upside also has a check-in option that will sometimes save you money without a receipt, you just need to pay with a saved debit or credit card. Upside isn't only for gas stations, with Upside you can save on groceries and restaurants too!
Bonus Tip: Gas Station Apps and Rewards Programs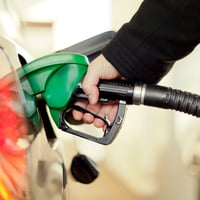 Are you loyal to a certain gas station? Shell or 76 maybe? Many gas stations have their own app, rewards program, and/or credit cards that can help you save money at the pump. If you have a favorite gas station that you tend to choose over all others, you may want to consider looking into what they may have to offer to their customers specifically.
Planning this weekend's road trip or maybe you realized that your gas light came on two days ago and you need to fill up on your way to work tomorrow morning, no matter the situation make sure you're connected to the fastest and most dependable WiFi service around so you can find the best place to fill up before you even leave the house! Click here to learn all about GVTC's Premium WiFi.
---