Give the Gift of Time this Christmas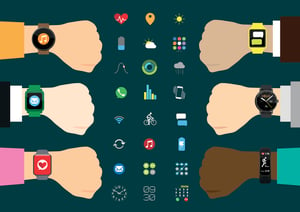 Watches today are no longer just an accessory and a timepiece. Watches today are tools to keep you connected and up to date on the things that are important to you. From screening phone calls, checking emails, tracking steps, and monitoring your heart rate, no matter what your priorities are, there is a smartwatch out there for you.
Apple Users
The first Apple watch was released in 2015, and today the Apple watch has grown to be the most successful watch globally, with a 55% market share. In 2020 Apple Watch sales beat the entire Swiss watch industry. If you are a loyal Apple user, these are the watches you'll want to consider!
Apple Watch Series 7
Apple's flagship smartwatch, the Apple Watch Series 7, comes with not only a larger screen than previous Apple Watches, but this screen is more durable, both dust and crack-resistant. The larger screen also gives you access to a full-screen keyboard, no need to pull out your phone for short messages anymore. The watch comes in a 41mm or 45mm case, five different colors, and is equipped with a blood oxygen and electrocardiogram (ECG or EKG) sensor. With this watch, you have the option to choose a cellular or LTE model that will allow you to take calls and answer messages from your wrist without your phone, but that does cost extra. With typical use, the Apple Watch Series 7 has a battery life of about 18 hours and also has a fast-charging speed, up 33% from the last generation of watches.
Apple Watch SE
A less expensive alternative to the Apple Watch Series 7, the Apple Watch SE offers many of the same features with the added bonus of a slightly longer battery life! The biggest differences between the SE and the 7, besides price, include a display face that does not have an always-on feature and no ECG monitor. The SE does have an LTE option and comes in two sizes, 40 mm and 44mm.
Android Users
Although many may think of Apple Watches first when they think of early smartwatches, however Android actually hit the market first in 2014! Today Android continues to evolve and grow and is a top competitor in the world of smartwatches.
Samsung Galaxy Watch 4
This is the first smartwatch to run the new Google Wear platform, co-designed by Samsung and Google. The Galaxy Watch 4 has a new round design that comes in four sizes (40mm, 42mm, 44mm, and 46mm), and if you don't mind paying a little more, it also comes in the more classic version with a rotating bezel. Like the majority of smartwatches on the market, the Galaxy Watch 4 does come with ECG and heart-rate tracking, as well as AFib detection, but Samsung tries to differentiate this watch from competitors with a new impedance-based electrical sensor that can tell you more about your body composition.
One thing potential purchasers should keep in mind, some Samsung Galaxy Watch 4 features are exclusive to Samsung devices and won't be accessible to all Android users.
Fitness Focused Smartwatches
If you're more of the outdoorsy type or are more concerned with tracking your steps and heart rate than emails and calendar notifications, then these watches are what you are looking for!
Garmin Venu 2
Garmin, synonymous with fitness trackers, the Garmin Venu 2 brings the Garmin name further into the smartwatch arena. The Venu 2 has a sleek, round design with a bright screen that's easy to see in direct sunlight. While it does not have LTE or cellular connectivity, it does have a bunch of great in-depth fitness features like comprehensive workout tracking, a Body Battery that tells you if you should push yourself to workout or take a rest day, plus women's health tracking. The Venu 2 can take blood oxygen levels and has a great battery life that will last several days with moderate use.
Garmin has also released the Venu 2 Plus, which introduces on-wrist calls and voice assistants.
Garmin Vivomove Sport
This is the smartwatch for general watch lovers. Instead of the sporty look you may have come to expect with the Garmin name, the Garmin Vivomove Sport looks like a classic watch, with the exception of a small display on the lower half of the face for tracking workouts and checking notifications and calendar entries. But don't let the more traditional design fool you. The Garmin Vivomove Sport can still pack a fitness punch. The watch can track your heart rate, blood oxygen, respiration, and sleep, which can then all be synced to Garmin's Connect app. Like the Garmin Venu, Vivomove can also gauge your Body Battery.
A downside to the Garmin Vivomove Sport, there is no onboard GPS.
Fitbit Sense
Fitbit's top smartwatch comes equipped with more health and wellness features than other Fitbit watches, including an FDA-approved ECG sensor and blood oxygen reading, as well as the ability to measure electrodermal activity and skin temperature. The watch offers tracked workouts, GPS, and meditation tools. Fitbit Sense gives you the option to choose Alexa or Google Assistant as your voice assistant and now has the ability for you to take hands-free calls.
Fitbit Versa 3
Whether you are an Android or iOS user, the Fitbit Versa 3 gives you the option to choose Alexa or Google Assistant as your go-to voice assistant. The Fitbit Versa 3 has a ton of health and fitness features, including onboard GPS and live heart rate zone notifications. It has a great sleep tracking feature, and Fitbit Premium users can access the breakout of their overnight SpO2 and body temperature data.
Polar Grit X Pro
This is the outdoor adventurer's smartwatch. The Polar Grit X Pro has a rugged design that is water-resistant up to 100 meters, functions in low temperatures, and has a sapphire glass watch face that's scratch-resistant. Some features include onboard maps, turn-by-turn navigation, and overnight recovery tools. Beyond all the fitness features, you can still get notifications from your phone, control music playback, and the watch has 24/7 heart rate monitoring. The Polar Grit X Prop provides a battery life of about 40 hours while running both GPS and heart rate monitoring.
Suunto 7
A runner's dream, the Suunto 7 is suited for all-weather and has a thin, lightweight design. The Suunto 7 is the first generation of Suunto watches to adopt Google's Wear OS over its own proprietary operating system. Utilizing Google's Wear OS, the Suunto 7 combines all the great fitness features you'd expect with a Suunto fitness watch, like superior GPS accuracy for route tracking, and combines it with common everyday smartwatch features like third-party app integration. Wear OS also allows for notification support, the ability to control music on a connected device, access to Google Assistant, and a wide range of watch faces to utilize too.
Your smartwatch isn't only useful while you're out and about. While at home, it's a great way to track your workouts or check your incoming calls without keeping your phone on you at all times
Make sure you have a strong and reliable WiFi signal at home to support your impressive new smartwatch. Click here to upgrade to GVTC Premium WiFi.
---