Bloody Good Showtime Deals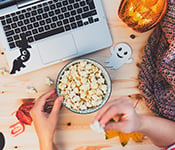 Spooky Season is officially here! Do you know what that means? Scary movies and shows all month long! It's time to put out your haunted décor, turn down the lights, and binge-watch some terrifying TV! Showtime has some horrifying new shows that will leave you sleepless. From vampires to serial murderers, these new series will have you glued to your seat.
Showtime is also offering a killer deal! Now through November 4th, you have the opportunity to take advantage of combining the everyday low value for Showtime at $10.99 a month with the Showtime-managed $75 rebate program. It is like getting over 6 months of Showtime for FREE! Click here for more details.
Let the Right One In
Mark and his daughter Eleanor's lives were changed forever 10 years earlier when she was turned into a vampire. Seemingly frozen in time at the age of 12, Eleanor has lived a closed-in life, able to go out only at night, while her father does his best to provide her with the human blood she needs to stay alive. Now they've returned home to New York City, desperate to find a cure.
Yellowjackets
Part survival epic, part psychological horror and part coming-of-age drama, this is the story of a team of wildly talented high school girls' soccer players who survive a plane crash deep in the remote northern wilderness. The series chronicles their descent from a complicated but thriving team to savage clans, while also tracking the lives they've attempted to piece back together 25 years later.
Dexter: New Blood
The world at large believes Dexter Morgan died in a tragic boating accident, and in a way the world at large isn't wrong. Far from the life he knew, living under a false name in the small town of Iron Lake, NY, he successfully tamped down his Dark Passenger for nearly 10 years. With a normal job and a Chief of Police girlfriend, it seems he's got life under control – until his son shows up and turns his world upside down. Rattled, Dexter yields to his homicidal urges and soon finds himself on a collision course with a very dangerous local.
Scream
Twenty-five years after a streak of brutal murders shocked the quiet town of Woodsboro, a new killer has donned the Ghostface mask and begins targeting a group of teenagers to resurrect secrets from the town's deadly past.
Don't miss out on this wicked good deal. Contact GVTC today to personalize your television experience with an add-on that delivers your favorite programs, movies, sports, and lifestyle shows.
---