Das GreenHaus & GVTC Communications: Fostering Growth in Kendall County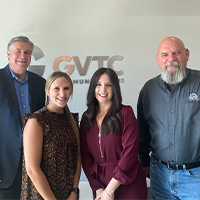 Das GreenHaus, a business incubator in Boerne, Texas, is an exciting initiative that aims to support and nurture local businesses. The idea for Das GreenHaus emerged from the community's desire to create an entrepreneurial ecosystem, grow its own businesses, and retain the talent in our community. This vision gained momentum during the development of a five-year strategic plan in partnership with the University of Texas/IC2 Institute. One of the key recommendations from the plan was to establish an incubator to attract and support entrepreneurs in Kendall County.
Creating a Supportive Ecosystem:
Recognizing the lack of resources available to attract entrepreneurs, the Boerne Kendall County Angel Network was launched as the initial phase. This network comprises local accredited investors who provide seed funding for startups. Additionally, the team at Das GreenHaus identified the need for a physical space that could serve as a hub for collaboration, resource-sharing, and growth. After exploring various options, the Das GreenHaus team secured a favorable lease for a building in Kendall County with the support of the community and GVTC Communications.
The Role of GVTC Communications:
GVTC Communications played a crucial role in the establishment of Das GreenHaus. As a lead contributor from the private sector, GVTC's commitment to the project highlights its dedication to supporting the local community. Their generous contribution helped secure the ideal building, ensuring it had all the necessary facilities, such as offices, common areas, conference rooms, and training rooms. GVTC's involvement underscores their belief in local businesses' potential and commitment to fostering entrepreneurship in Kendall County.
Amy Story, President and CEO of Boerne Kendall County Economic Development Corporation, said, "The way that GVTC supported Das GreenHaus is pretty amazing. It speaks volumes to the type of business they are and demonstrates that they really care about the local communities that they serve."
Supporting a Diverse Range of Businesses:
Das GreenHaus aims to provide support and resources to entrepreneurs from various industries. While some incubators focus on specific business types, Das GreenHaus remains open to businesses from different sectors. The entrepreneurial program at Das GreenHaus, called "Idea to Market," offers a customized approach to business development. Entrepreneurs are matched with mentors who guide them through the program, helping them build a tailored business plan and providing support at each stage of their journey.
Networking and Mentorship:
Das GreenHaus recognizes the importance of networking and mentorship for business success. The incubator connects entrepreneurs with local professionals and experts who can offer guidance, advice, and valuable connections. The mentors are community volunteers who bring extensive experience and passion for helping entrepreneurs. By fostering strong relationships between mentors and entrepreneurs, Das GreenHaus creates an environment where entrepreneurs receive personalized guidance, increasing their chances of success.
Kathy Estes, Director and President of Das GreenHaus said, "The program is customized. We are really looking at mentors that match our clients in terms of what the mentor's expertise and background is and how that can bring value to where that entrepreneur is right now."
Benefits for the Community: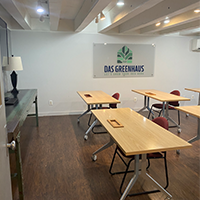 Das GreenHaus not only benefits entrepreneurs but also contributes to the overall growth of Kendall County. By supporting local businesses, Das GreenHaus strengthens the community's economy, creating job opportunities and attracting customers for existing businesses. The incubator aims to establish deep roots in Kendall County, encouraging entrepreneurs to stay in the area even after graduating from the program. Das GreenHaus actively engages with local businesses, fostering connections and collaboration to ensure long-term success for the entrepreneurs it supports.
"GVTC is proud to be a partner of Das Greenhouse. We are excited to be the exclusive provider of phone, internet, TV, and security services for this groundbreaking business and help make the dreams of community members come true. GVTC was built on the ideas of local entrepreneurs, and we want to continue that tradition." said Ritchie Sorrells, President and CEO of GVTC.
Das GreenHaus represents a significant milestone in Kendall County's entrepreneurial journey. With the community's support and the partnership with GVTC Communications, Das GreenHaus is poised to become a thriving hub for entrepreneurs. By offering a customized approach, valuable mentorship, and a supportive community, they provide the necessary resources for entrepreneurs to turn their ideas into successful businesses. As Das GreenHaus continues to grow and support local businesses, it is expected to positively impact Kendall County's economy and foster a culture of innovation and entrepreneurship.
---