Dive into Shark Week 2023
The 2023 season of Shark Week will mark the 35th anniversary of cable tv's longest-running program event. Discovery Channel's first Shark Week premiered in 1988 and has been entertaining and educating shark fans ever since!
The History of Shark Week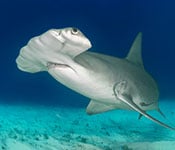 Did you know that Shark Week was actually a response to what is now known as "The Jaws Effect?"
In 1975, after the film Jaws was released, public awareness of sharks skyrocketed. The film's success resulted in a mass panic about the possibility of man-eating sharks. And although man-eating sharks don't actually exist and the chance of being attacked by a shark is very slim (1 in 3.7 million), fishermen and other seafaring organizations began exterminating sharks, in hopes of calming the public's fears. This mass panic and mass killing would later become known as The Jaws Effect.
In order to counter The Jaws Effect and help preserve remaining shark populations, there was a push for a counter-campaign to educate the public with real information about sharks. This counter-campaign led to the creation of Shark Week and other shark-centered events.
Shark Week Programming
Discovery Channel's Shark Week is filled with documentaries and other specialty television programming created to give viewers a personal look at how sharks all around the world live. The different programs explore new scientific findings and research and explore the effect humans and sharks have on one another.
Where to Watch
Shark Week 2023 can be enjoyed live on The Discovery Channel or streamed on Discovery+ and Max.
FuboTV, Hulu with Live TV, Sling TV, and YouTube TV, all offer live TV packages that include Discovery Channel as well.
Shark Week 2023
The 2023 season of Shark Week will be hosted by Aquaman himself, Jason Momoa. As the host of Shark Week, Momoa will guide viewers through exciting shark-filled adventures, introducing new specials throughout the week, and sharing new and exciting discoveries by researchers and scientists.
In talking about his role as this year's Master of Ceremonies, Momoa said, "As the host of Shark Week, I am beyond excited to take you along on this journey…This project means more to me than a week of talking about sharks. It's a chance for me to learn and share my connection to these amazing creatures. My love of sharks came long before my time as Aquaman – it began several generations before me."
Momoa was chosen by Discovery Channel to host Shark Week thanks to his dedication to protecting and preserving the world's oceans.
Shark Week 2023 is slated to start July 23 at 8 pm ET/PT!
Need to upgrade your television package? Click here to learn all about GVTC's different cable packages so you can enjoy all the 2023 Shark Week programming live!
---