Gaming Systems You Need to Check Out This Summer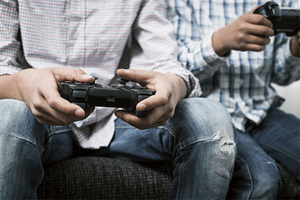 PlayStation, Xbox, Nintendo, and more! From fitness games to strategy games, shooter games and so much more, the world of gaming has something to offer everyone. But with so many options out there, how do you know which system to choose?
Whether you are a video game veteran or new to the world of gaming, we've compiled a list of some of the most popular systems on the market this summer to help you find the system that is right for you!
PlayStation
The first PlayStation was released worldwide in 1995 and by 2005 the PlayStation became the first console to ever ship 100 million units. Today PlayStation has continued to grow and has become a go-to favorite for many gamers.;
PS5
The newest console on the market and the highest in demand, PlayStation 5 has been flying off the shelves since it launched late last year. Some features that help the PS5 stand out in the crowd are super fast loading speeds, a new controller, 4K resolution, and one of the best game libraries on the market. The PS5 DualSense controller, while slightly larger than the previous DualShock 4, refines haptic feedback and incorporates a precise sense of touch into your gaming experience. Hand triggers now better convey tension in your gameplay actions. And bringing back backward compatibility, not only will you be able to play all the new and upcoming PS5 games, but all your old PS4 games as well.
In addition to streaming capabilities, (Netflix anyone?), the PS5 also comes with a 4K Blu-ray player.
If discs aren't your thing and you'd like to save some money, PlayStation also has the PS5 Digital Edition, which retails for around $100 less than the standard PS5 and the only difference is no disc drive.
Notable Games
Marvel's Spider-Man: Miles Morale
Demon's Souls
Final Fantasy 7 Remake Intergrade
God of War
Godfall
Xbox
While it may be one of the newer gaming consoles on the market, Xbox has been around for quite a while and in fact, celebrated its 20th anniversary on the US market just last year. Released in 2001, the original Xbox sold over one million units in its first three weeks. Today Xbox has continued to grow and its iconic green X has become synonymous with gaming.
Series X
Microsoft's flagship console, the Series X supports high-end 4K graphics and new rendering techniques like "ray-tracing," making things like shadows in your games more realistic. Adding to the appeal of Xbox, unlike other consoles, Xbox offers a monthly subscription service, Game Pass, which gives subscribers access to hundreds of games for just $15 per month.
With Xbox, you are also able to stream TV and movies from your favorite services like Netflix and Hulu. Like its rival PS5, this Xbox console also comes with a 4K Ultra HD Blu-ray drive.
Series S
If you're looking for a more budget-friendly console and don't mind cutting a few specs corners, the Series S may be a good choice for you. The Xbox Series S is a disc-free gaming console that runs about $200 less than its counterpart. With that reduced price comes less storage space and a system no longer able to support 4K visuals, but does still run at 1080p and 1440p resolutions.
Notable Games
Halo Infinite
Fallout
Call of Duty
Assassin's Creed Valhalla
BA 2K22
The Nintendo Switch Family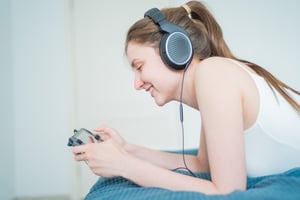 A veteran on this list, Nintendo has been a key player in the gaming world since the 80s. With staying power like that, Nintendo has not only become a household name but has helped shape and guide the evolution of gaming.
Nintendo Switch Classic
Both a traditional console that can be hooked up to a television and a handheld portable device, the Switch gives gamers the best of both worlds. Because it is a hybrid system you do lose some of the processing power, but the system travels well, making it great for road trips, plane rides, and hotel rooms.
The Nintendo Switch, although not 4K quality, does have a display resolution of 1080p when docked and 720p as a handheld. Games are available as cartridge games and as downloads, and the system does support some streaming apps.
Just last year Nintendo released the Switch OLED, which is basically the same system with just an upgraded seven-inch OLED screen over the old LCD screen. With the upgraded screen also comes improved speakers, a better kickstand, and an ethernet port on the docking tray.
Switch Lite
If you don't need the versatility of the Classic Switch and are more concerned with portability than a gaming console, the Switch Lite is for you! At a significantly lower price point, the Switch Lite can play almost all the same games, has similar battery life, and has the same handheld resolution as the Classic Switch. The only difference the Switch Lite cannot be hooked up to a television and the game controllers are not detachable.
Notable Games
Animal Crossing: New Horizons
Mario Odyssey
The Legend of Zelda: Breath of the Wild
Super Smash Bros. Ultimate
The Witcher 3
Throwback Systems
Gaming has evolved greatly over the past decades. From games like Frogger to today's VR systems, the world of gaming doesn't share many resemblances with its past self. But just because things have changed so much doesn't mean we all can't appreciate a little 90s nostalgia.
Genesis Mini
Travel back to the early 90s with the nostalgic Genisis Mini. Designed to be a great visual recreation of the classic system, this retro throwback comes with 40 preloaded games including Sonic the Hedgehog 2, Phantasy Star IV, and Street Fighter 2. Enjoy classic games all at a 1080p resolution.
Nintendo Super NES Classic
If you used to be more of a Nintendo fan, let the Nintendo Super NES Classic take you back to the 90s. Just like the Genesis Mini, the Nintendo Super NES Classic comes pre-loaded with 21 classic games like Super Mario Kart and Street Fighter II Turbo. The system even comes with a CRT filter option, in case you want it to even look like you're playing your games on a TV from the 90s.
No matter which gaming systems chose make sure you're connecting with the fast most reliable internet around by upgrading to GVTC's Fiber Internet! Click here for pricing information.
---